About the HEAL Data Ecosystem
What Is The HEAL Data Ecosystem?
The NIH Helping to End Addiction Long-termSM Initiative, or NIH HEAL InitiativeSM, Research Plan describes the wide variety of studies aiming to discover scientific solutions to the crises of pain, opioid misuse, addiction, and overdose. The breadth and depth of HEAL's research portfolio is unparalleled – over time, generating an extensive collection of findings and datasets that will be the basis of future research in many different biomedical domains. The complexity will present data-related challenges, yet data sharing is a high priority to ensure HEAL-funded research investments best address this urgent public health crisis. The HEAL Data Ecosystem aims to transform research data, findings, and publications into a virtual, annotated, searchable catalog in which datasets and findings from different studies can be analyzed, compared, and combined.
The NIH HEAL Initiative is an aggressive effort to speed scientific solutions to stem the national opioid public health crisis. The HEAL Data Ecosystem will establish a secure data access and computing environment built by two expert data resource teams: one from the University of Chicago and the other from the Renaissance Computing Institute at the University of North Carolina at Chapel Hill/RTI International (RENCI/RTI). All HEAL data must be Findable, Accessible, Interoperable, and Reusable (FAIR, see HEAL Data Sharing Policy), in line with broader efforts across NIH outlined in the NIH Strategic Plan for Data Science.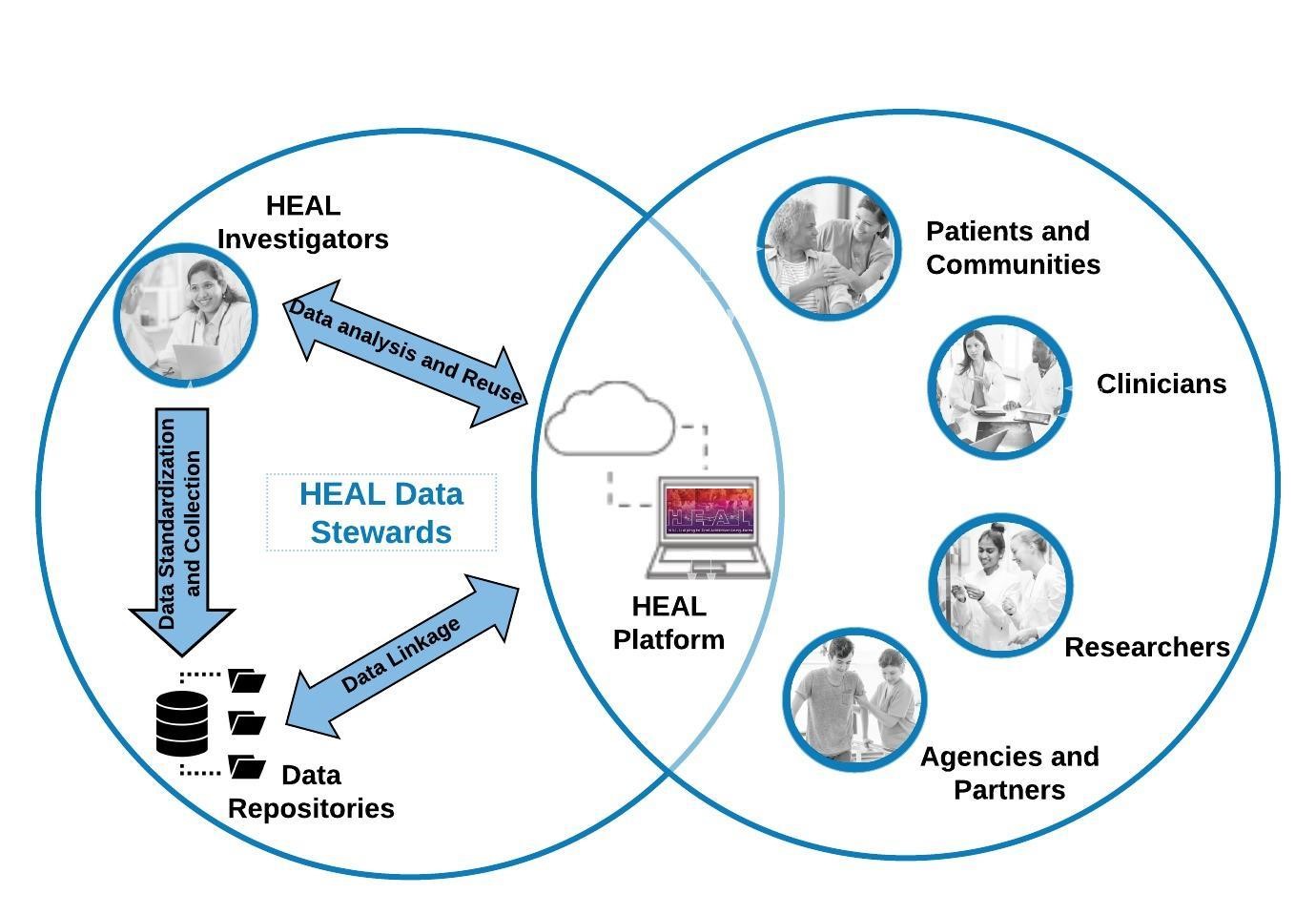 How Will HEAL Data Be Used To Solve The Opioid Crisis?
Sharing HEAL-generated results and associated data as rapidly as possible will allow the broader community to ask and answer new research questions; conduct secondary analyses; and address fast-evolving challenges that surround pain management, opioid use and misuse, and overdose. HEAL data are highly diverse and include imaging/microscopy; behavior; genomics, transcriptomics, and proteomics; pharmacokinetics; public records; biometrics; biosamples; electrophysiology; actigraphy; and more. HEAL data will be stored in various NIH-funded or other data repositories that meet appropriate standards for data security and privacy. Below are potential ways HEAL results and data could be used by various stakeholders (see "Potential HEAL Data Use Cases").
What Is The HEAL Platform?
HEAL data will be centrally accessible via the HEAL Platform, which supports the HEAL mission by maximizing access to and use of HEAL findings, data, analysis tools, and resources. This cloud-based data platform is being built and enabled by the University of Chicago and RENCI/RTI teams, who will collaborate closely with HEAL investigators to augment efforts where needed – especially for programs not currently working with their own HEAL-funded data-coordinating efforts.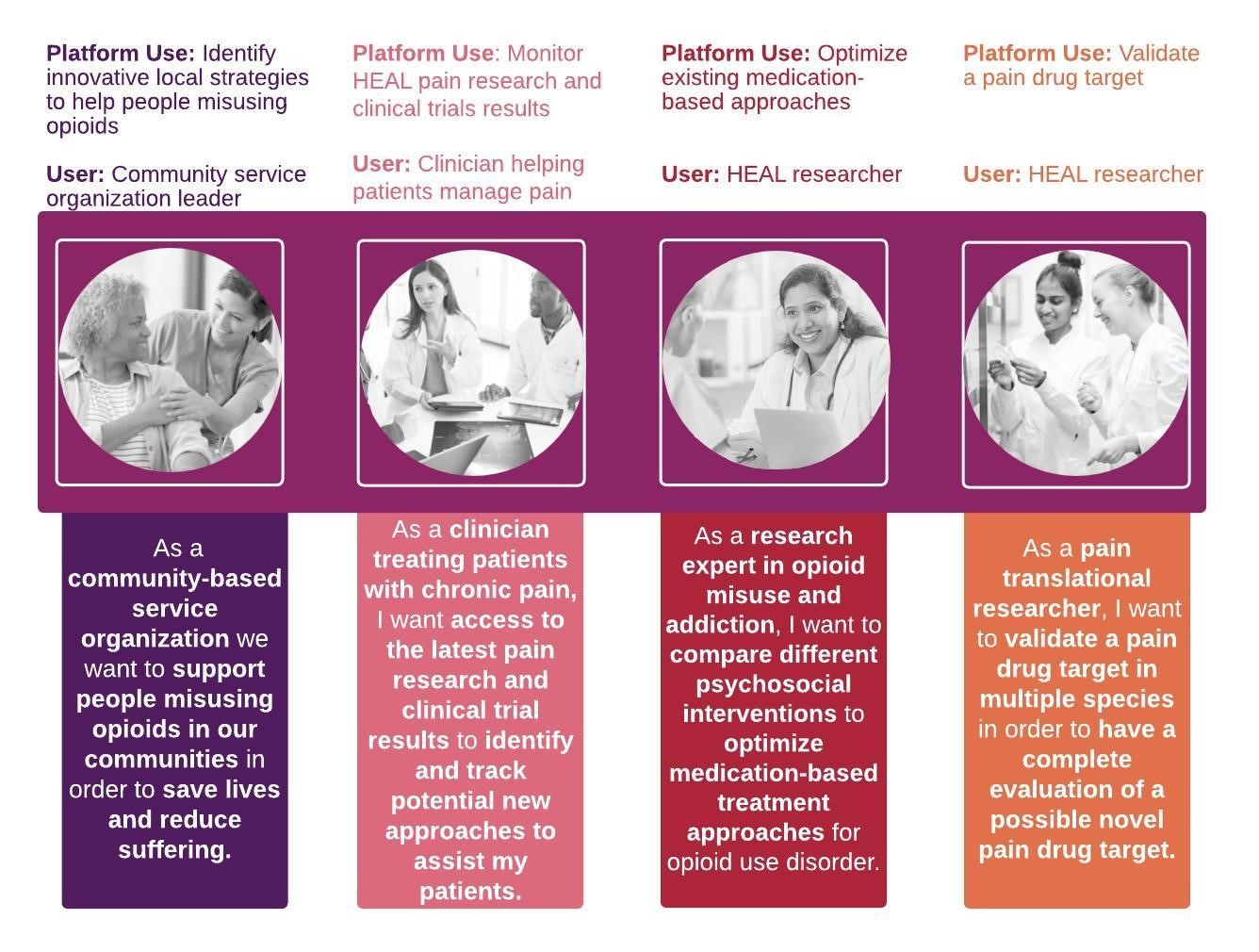 Potential HEAL Data Use Cases
The HEAL Platform is a secure, user-friendly interface and workspace that will allow HEAL investigators, other researchers, and a broad range of stakeholders including advocates, clinicians, and community organizers to easily find HEAL research results and data and use it to inform their own research, practice policies, and inquiries. As the HEAL Data Ecosystem becomes more robust, increasingly complex searches and analyses will be possible using results and data available through the HEAL Platform. Various potential uses will serve a wide range of stakeholders for research, policy development, clinical decision-making, and more. Here are a few potential ideas of how stakeholders might use the HEAL Platform.
Creating a Community: HEAL Data Ecosystem Virtual Workshop
The NIH HEAL Initiative hosted the "Creating a Community: HEAL Data Ecosystem Virtual Workshop" on April 20, 2021, that provided an opportunity for HEAL-funded investigators and NIH program staff to learn more about the HEAL Data Ecosystem, meet the awardees (University of Chicago and Renaissance Computing Institute and RTI International), and ask questions during panel discussions. Workshop speakers presented important information to help inform HEAL-funded investigators about central data-related efforts and resources, including how to connect their data to the Platform. The presenters convey the opportunity for making data findable and accessible; and identify and discuss key data-related issues. View highlights from the workshop:
Part 1: Benefits and Possibilities – Discover how data from current HEAL Initiative programs can serve as a launch pad for future studies, collaborations, and new programs.  
Part 2: Data Security – Learn about the HEAL Platform, which is designed to provide the necessary security and compliance to help researchers explore the full breadth of data being generated within the HEAL Initiative.
Part 3: Available Support – Learn about the specialized data management consulting available to HEAL studies to aid in achieving data-sharing objectives in a coordinated and efficient manner.
HEAL Data Management: Gathering Input from a Sample of Awardees
The NIH HEAL Initiative is building a foundation for the HEAL Data Ecosystem through multiple assessments and data-gathering efforts. These fact-finding missions have shed light on how HEAL researchers create data, what data standards they use, and how these researchers might collaborate with others to maximize the value of HEAL data – not only for researchers but for people and communities on the front line of the pain and opioid crises.
To begin to understand data needs and related issues, 37 current HEAL awardees were interviewed about their knowledge about and use of scientific data standards, data sharing, and reuse of research data. These initial interviews revealed that the HEAL research community will generate diverse amounts and types of data and are generally supportive of open science – but also showed substantial variability in awareness and use of data standards, databases, and public repositories. Although forthcoming assessments will gather comprehensive input from the full HEAL community, these initial findings are instructive toward guiding development of the centrally accessible HEAL Platform, which will support the HEAL mission by maximizing access to and use of HEAL findings, datasets, analysis tools, and other resources.
Key Findings
Most HEAL clinical awardees (90%) stated that they are aware of data standards in general and would use them as part of their HEAL research. By contrast, only 12% of the preclinical researchers stated that they would use some data standard as part of their HEAL research.
"Metadata" is a novel term to most HEAL researchers, even though they may routinely use metadata in practice.
HEAL clinical researchers are highly reliant on databases for data storage, whereas preclinical researchers generally store data in formatted files created by lab instruments or analysis tools, rather than in databases.
Some clinical and preclinical HEAL researchers will produce "big data" as part of their HEAL research. Roughly one-third of the researchers expect to create data on the petabyte scale (1 petabyte is 1 million gigabytes) or terabyte scale (1 terabyte is 1,000 gigabytes).
All HEAL researchers surveyed rely on statistical and graphing tools, but clinical researchers were more reliant on relational platforms for their analyses, while preclinical researchers used many instrument-specific analysis tools.
HEAL respondents were generally enthusiastic about HEAL's efforts to promote open science through its cloud-based platform, for both collaboration and hosting of analysis tools.
HEAL researchers are generally aware of the HEAL Public Access and Data Sharing plan, but are looking for additional guidance about its implementation.
Roughly one-third of HEAL respondents will be using an existing public repository as an archive for their research data; for clinical researchers, this may be a condition of their award.
View the Full Report PDF | 354.43 KB.
Questions?
Upcoming outreach efforts will solicit input across and beyond the HEAL community, so we encourage you to start thinking now! How will you use the HEAL Platform? What interesting questions do you want to ask with diverse HEAL data types? How can the HEAL Platform enhance your collaborations? What analyses and computational abilities would you like to see featured? Address your questions to [email protected].
You May Also Be Interested In:
Common Data Elements (CDEs) Program
To facilitate cross-study comparisons and improve the interpretability of findings, clinical pain research grantees collaborate and agree to use common data elements for patient-reported outcomes (PROs).
View the webpage
Research Programs and Focus Areas
12 NIH Institutes and Centers are leading 25 research programs to find scientific solutions to the opioid crisis.
View the webpage