About the HEAL Data Ecosystem
What Is the HEAL Data Ecosystem?
The HEAL Data Ecosystem is part of the NIH HEAL Initiative®, an aggressive trans-agency effort to speed scientific solutions to stem the evolving national opioid public health crisis. The goal of the HEAL Data Ecosystem is to accelerate sharing HEAL-generated data and results among the broad community of researchers, healthcare providers, community leaders, policy makers, and other HEAL stakeholders who can benefit from learning the results of initiative research. The HEAL Data Ecosystem connects the HEAL community, enabling HEAL data to be searched, analyzed, and used to make new discoveries. By empowering researchers to make their HEAL-generated data FAIR (findable, accessible, interoperable, and reusable), the HEAL Data Ecosystem promotes data sharing.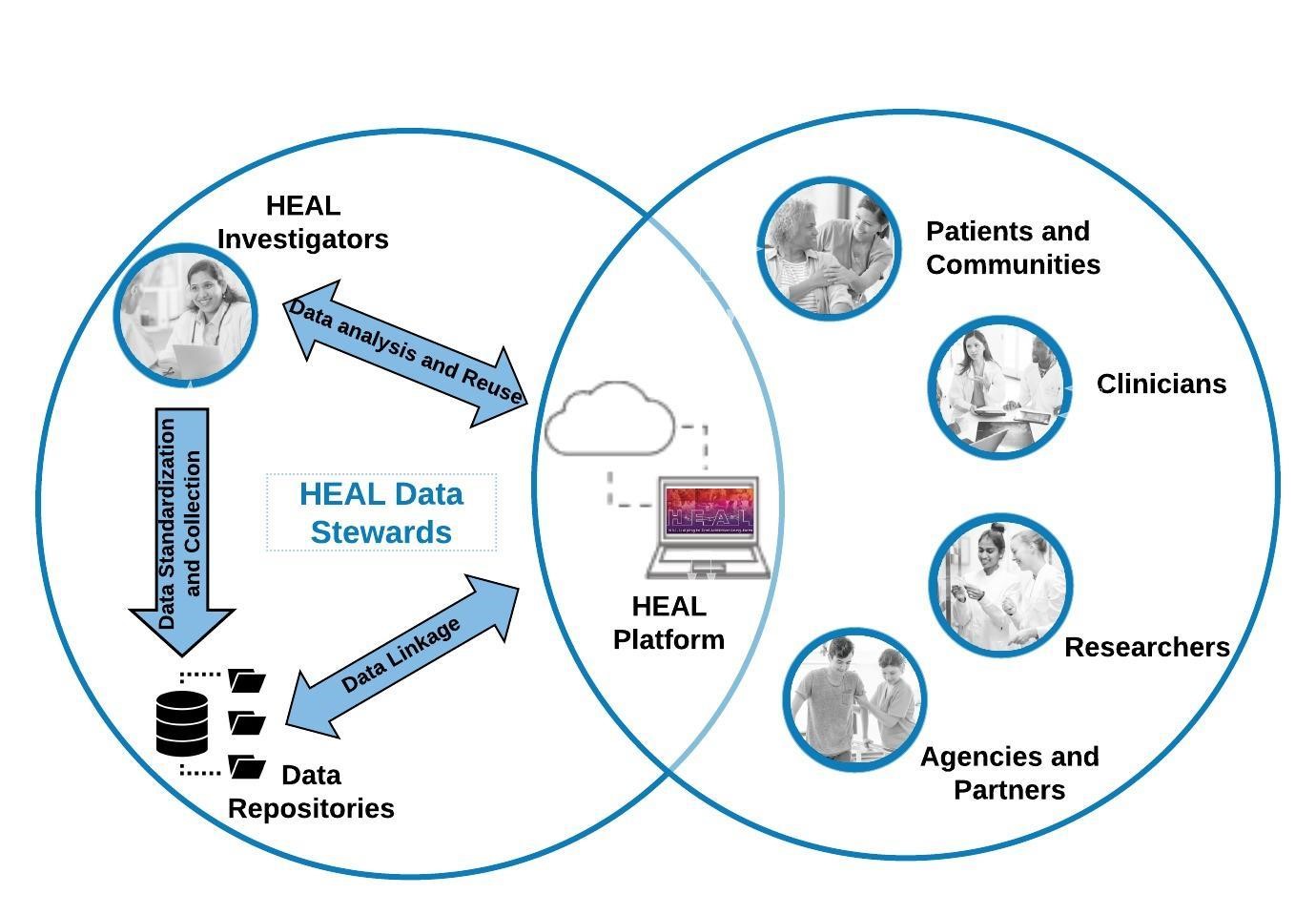 What Is the HEAL Platform?
The HEAL Platform aims to transform research data, findings, and publications into a virtual, annotated, searchable catalog where datasets and findings from different studies can be analyzed, compared, and combined. HEAL data will be stored in various NIH-funded or other data repositories that meet appropriate standards for data security and privacy.
NIH HEAL Initiative data will be accessible via the HEAL Platform. The cloud-based environment for sharing and analyzing data supports the initiative's mission by maximizing access to and use of NIH HEAL Initiative findings, data, analysis tools, and resources. Two teams are building and enabling this data ecosystem:
HEAL-funded scientists at the University of Chicago
HEAL-funded scientists at the Renaissance Computing Institute at the University of North Carolina at Chapel Hill/RTI International (RENCI/RTI) (HEAL Data Stewards)
These teams collaborate with HEAL investigators to support efforts where needed – especially for programs not currently working with their own HEAL-funded data-coordinating efforts. A Collective Board, with rotating members from various HEAL studies, guides the overall strategy and direction of the HEAL Data Ecosystem.  
All HEAL data must be Findable, Accessible, Interoperable, and Reusable (FAIR, see HEAL Data Sharing Policy). This is in line with broader efforts across NIH outlined in the NIH Strategic Plan for Data Science.
Learn how to make your Data FAIR
How Will HEAL Data Help Solve the Opioid Crisis?
The HEAL Platform is a secure, user-friendly cloud-based search interface that will allow HEAL investigators, other researchers, and a broad range of stakeholders including advocates, clinicians, and community organizers to easily find HEAL research results and data. Secure workspaces in the Platform provide tools and space for analyses. Users can leverage the Platform to inform their own research, practice policies, and inquiries. There are many different types of HEAL data and possible uses for it (see examples below).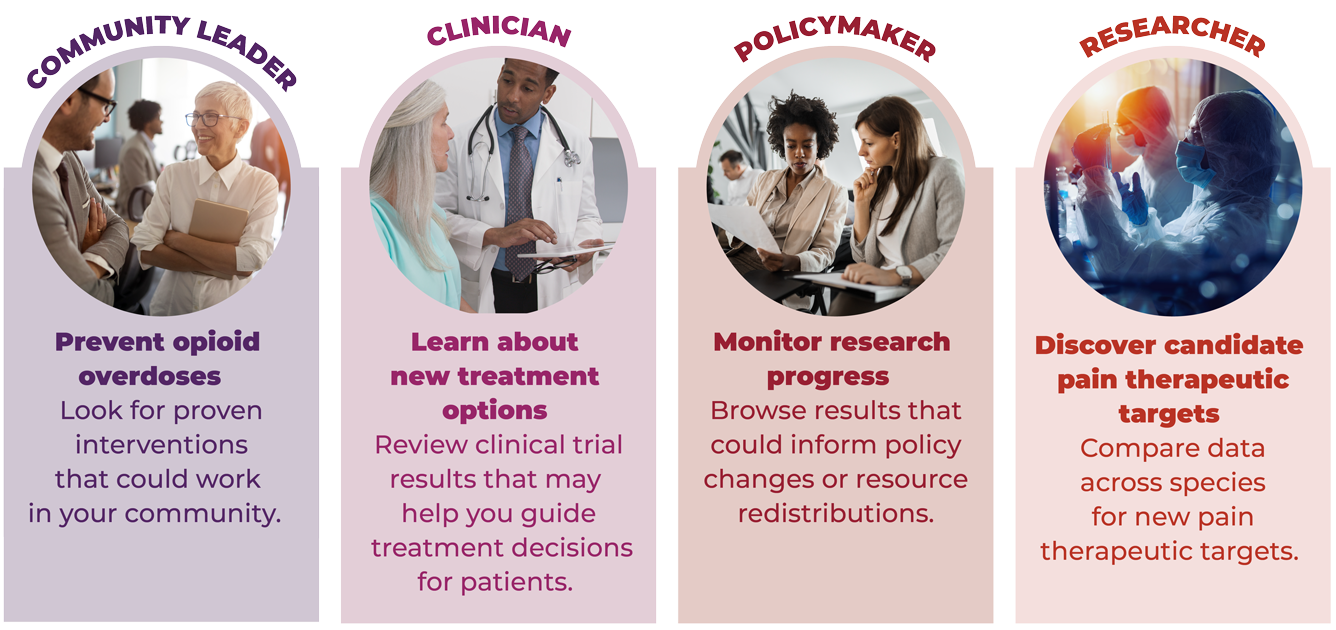 As the HEAL Data Ecosystem grows, it will be possible to complete more complex searches and data analyses.
View HEAL Research Analysis Examples
Questions?
Upcoming outreach efforts will ask for input across and beyond the NIH HEAL Initiative, so we encourage you to start thinking now! How will you use the HEAL Platform? What scientific questions do you want to ask with diverse HEAL data types? How can the HEAL Platform enhance your collaborations? What analyses and computational abilities would you like to see featured?
We encourage you to keep in contact, address your questions to [email protected].
You May Also Be Interested In:
Complying With the HEAL Data Sharing Policy
Learn about the groups funded to work with research teams throughout the HEAL Initiative to provide guidance in implementing FAIR data management and sharing practices.
View the webpage
HEAL Data Ecosystem Events and Outreach
Read about HEAL Data Ecosystem events and reports from outreach efforts. 
View the webpage
Access the HEAL Platform
Visit the HEAL Platform to search for HEAL-funded studies, access and analyze data, and more.
View the platform