HEALing Communities Study
Image

The HEALing Communities Study will test the integration of prevention, overdose treatment, and medication-based treatment in select communities hard hit by the opioid crisis. This comprehensive treatment model will be tested in a coordinated array of settings, including primary care, emergency departments, and other community settings. Findings will establish best practices for integrating prevention and treatment strategies that can be replicated by communities nationwide.
About the Program
NIH and the Substance Abuse and Mental Health Services Administration launched the HEALing Communities Study to investigate how tools for preventing and treating opioid misuse and OUD are most effective at the local level.
This multi-site implementation research study will test the impact of an integrated set of evidence-based practices across health care, behavioral health, justice, and other community-based settings. The goal of the study is to reduce opioid-related overdose deaths by 40 percent over the course of three years. Research sites are partnering with 67 communities highly affected by the opioid crisis in four states to measure the impact of these efforts.
The study will look at the effectiveness of coordinated systems of care designed to increase the number of individuals receiving medication to treat OUD, increase the distribution of naloxone, and reduce high-risk opioid prescribing. The study also supports harm reduction research to investigate the effectiveness of rapid-acting fentanyl test strips in modifying drug use behaviors and exploring drug checking needs in clinical settings.
Study Sites
Research grant awards were issued to the University of Kentucky in Lexington; Boston Medical Center in Boston; Columbia University in New York City; and Ohio State University in Columbus. The HEALing Communities Study is a multiyear study under a cooperative agreement supported by the National Institute on Drug Abuse, part of the National Institutes of Health (NIH).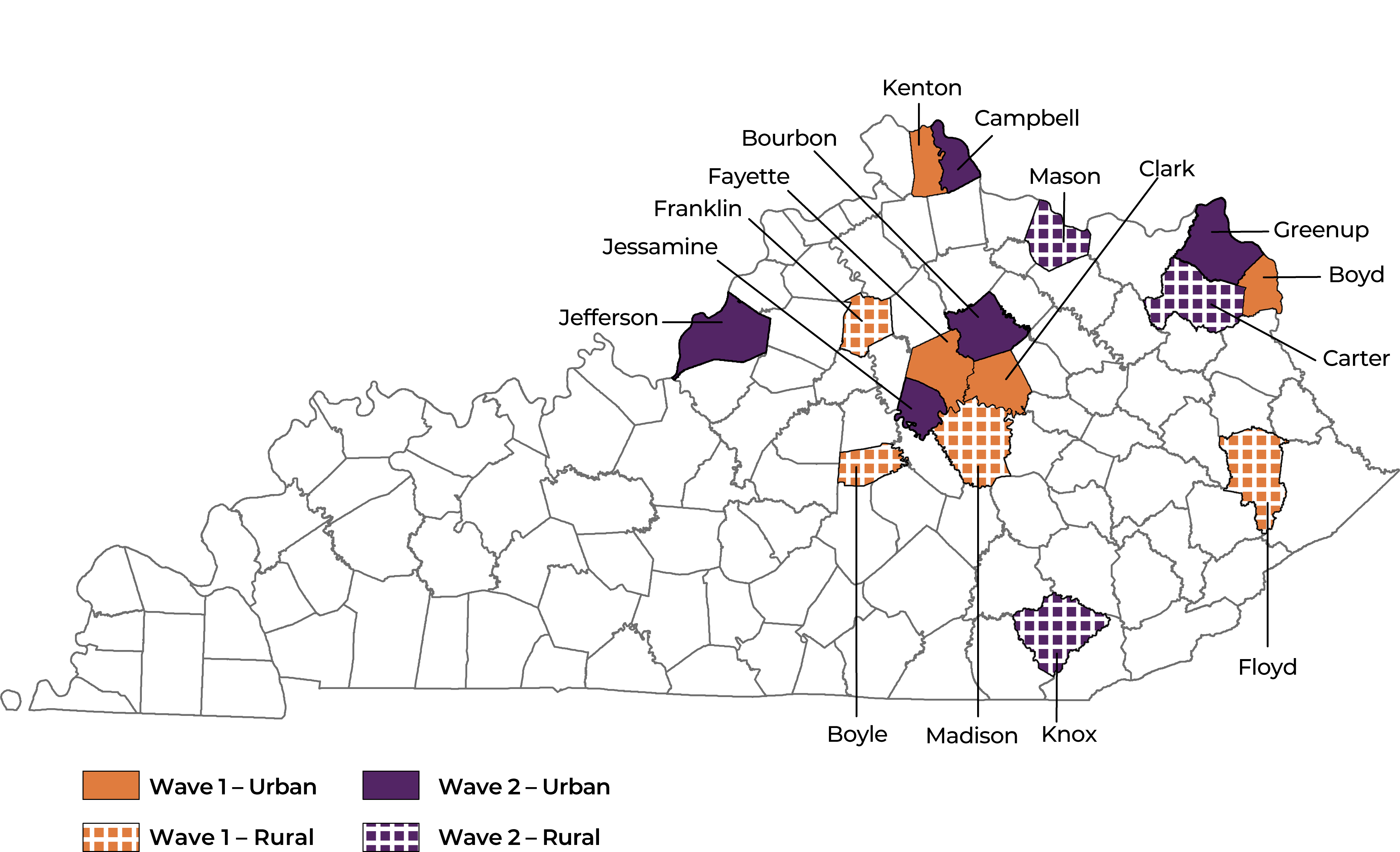 Kentucky Snapshot
Kentucky is ground zero of the opioid overdose epidemic. Since the 1990s, Kentuckians have been devastated by this unrelenting crisis, and they have persevered in their continued efforts to save lives.
The University of Kentucky has been conducting research to fight the epidemic from its early days. We've been very successful doing experiments, collecting data, and demonstrating what's effective for treating opioid use disorder. But we haven't been able to fully deploy that knowledge.
Participating Communities 
Bourbon - Campbell - Carter - Greenup - Jefferson - Jessamine - Knox - Mason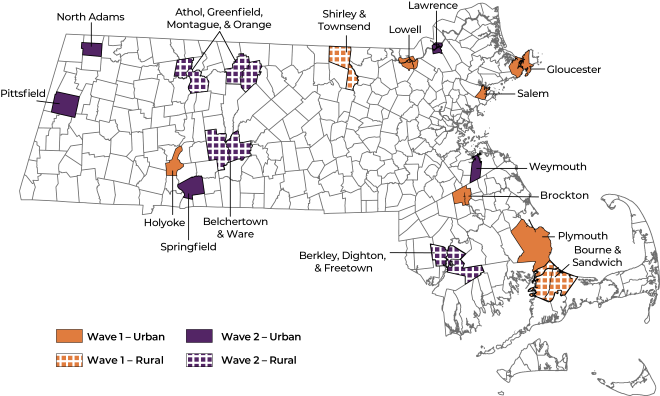 Massachusetts Snapshot
Boston Medical Center's research team brings decades of experience treating people with substance use disorder to ending the opioid overdose epidemic across Massachusetts. In collaboration with HEAL communities' grassroots coalitions, we're committed to bridging the gaps that prevent people with opioid use disorder from accessing quality care and treatment. 
Participating Communities 
Athol, Greenfield, Montague, & Orange - Berkeley, Dighton, & Freetown - Belchertown & Ware - Lawrence - North Adams - Pittsfield - Springfield - Weymouth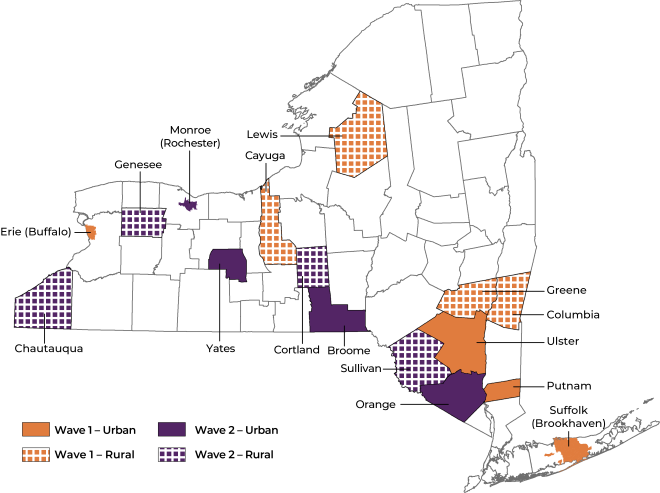 New York Snapshot
New Yorkers impacted by the opioid overdose epidemic live in rural, suburban, and urban counties that lack resources, service integration, and access to data that could help them turn the tide on the crisis. Columbia University is working hard to bring attention and innovation to these highly affected communities to reverse the alarming increase in opioid overdose deaths they have seen in recent years.
Participating Communities
Broome - Chautauqua - Cortland - Genesee - Monroe - Orange - Sullivan - Yates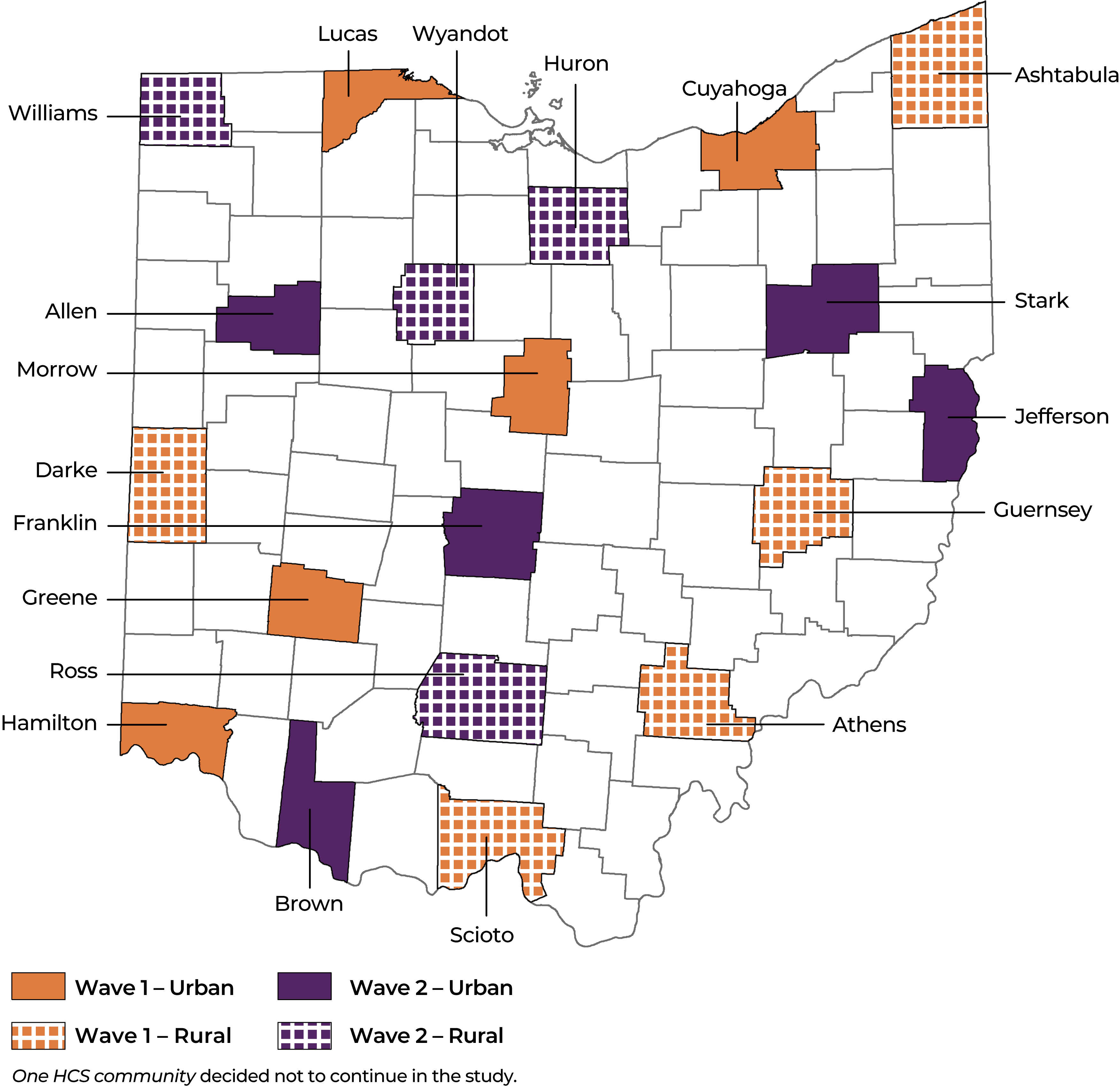 Ohio Snapshot
The Ohio State University is partnering with the University of Cincinnati, Case Western Reserve University, Ohio University, the University of Toledo, Wright State University, RecoveryOhio, and Ohio communities to assemble a research team that embodies a collaborative spirit, reflects strong institutional identity, uplifts family and community values, and honors diverse demographic and ideological identities.
Participating Communities
Allen County - Brown County - Franklin County - Huron County - Jefferson County - Ross County - Stark County - Williams County - Wyandot County
More About Ohio HEALing Communities Project
Research Institutions
Boston Medical Center – Massachusetts
Columbia University – New York
The Ohio State University – Ohio
University of Kentucky – Kentucky
Data Coordinating Center
RTI International – North Carolina
Closed Funding Opportunities
2019
HEALing Communities Study: Developing and Testing an Integrated Approach to Address the Opioid Crisis (Data Coordinating Center) (UM1- Clinical Trials Not Allowed)
Sep 25, 2019
Easier Access to Naloxone Linked to Fewer Opioid Deaths
Image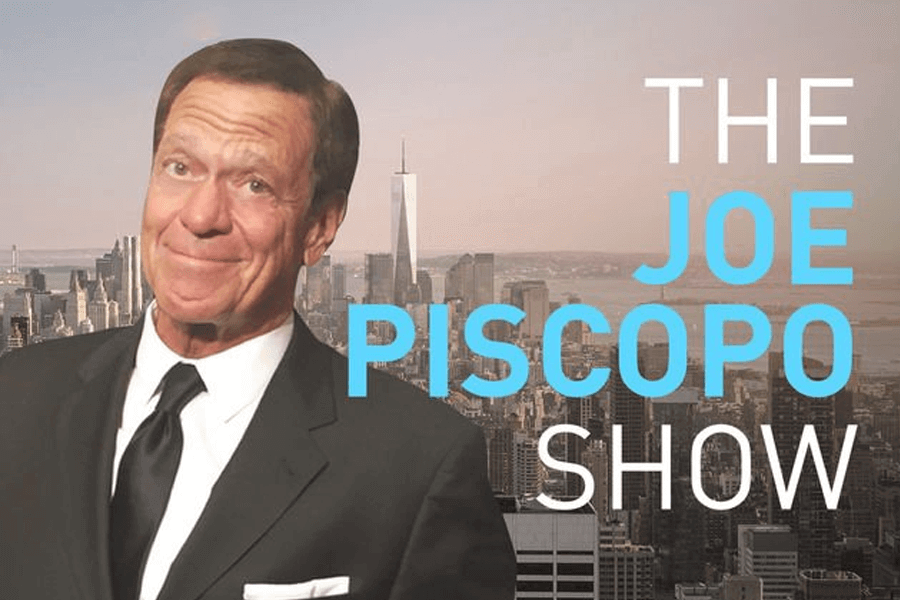 Director of the HEAL Initiative Dr. Rebecca Baker discusses the HEALing Communities Study on AM 970's The Joe Piscopo Show.
Read more
Image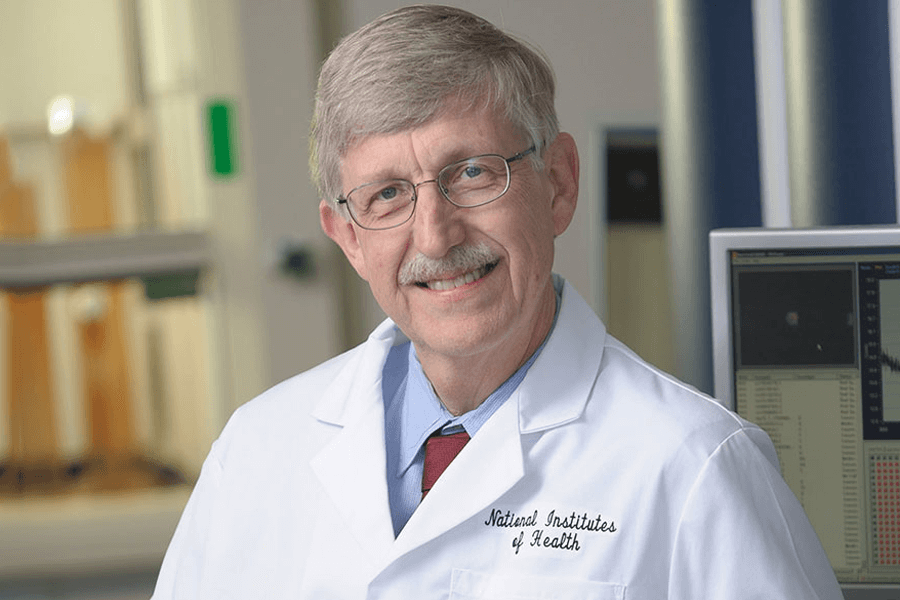 More than 115 Americans die from opioid overdose every day. That's four times higher than the number of opioid overdose deaths that occurred 20 years ago.
Read more
View Other Research Programs in This Focus Area