Patient and Community Engagement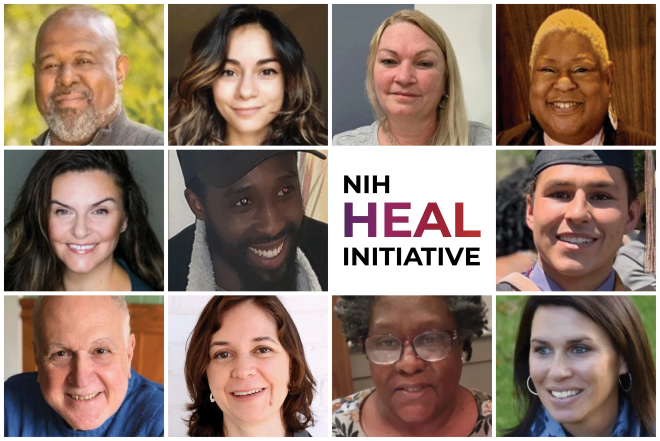 HEAL Values the Voices of Lived Experience
To realize the NIH HEAL Initiative® mission, the voices of people with lived experience are vital. A core HEAL principle is that research must be relevant to the individuals, families, communities, and populations it is designed to help. The HEAL Community Partner Committee, first convened in 2021, aims to help HEAL identify, refine, and prioritize patient and community engagement activities.
HEAL's whole-person research approach recognizes that individuals are unique—with a range of conditions and experiences that affect resilience and risk. Communities across the country are highly diverse—requiring culturally relevant approaches that resonate with them.
Infusing Patient and Community Engagement in HEAL-Funded Research
HEAL investigators are taking a variety of unique approaches to incorporate guidance and perspectives of community members into their research projects. In 2022, researchers from 147 HEAL-funded projects shared information about their patient and community engagement efforts. They develop these approaches in the context of individual studies, settings, and patient populations to better engage patients, communities, and other stakeholders; and to improve recruitment, retention, and inclusion of participants from populations that experience health inequities.
What Does HEAL Mean by Patient and Community Engagement?
HEAL-funded research involves people with lived experience throughout the research process: planning a study, implementing it, and sharing the results so they can be useful for real people in real communities. People with lived experience can make important contributions to all types of research, from basic science and discovery to clinical trials and implementation science.
Who to Engage
People with lived experience with pain and/or substance use disorders, their caregivers, health care providers, and community groups who provide support all have valuable insights. People with lived experience from groups that have been underrepresented in research projects—due to racism, sexism, gender discrimination, classism, ableism, and their intersections, for example—bring additional, critical perspectives that can advance health equity.
When Can Researchers Engage People?
Decisions occur throughout the lifecycle of a research project. They include the choice of research question; which populations to study; eligibility criteria; recruitment and activities to retain participants during the study; development of study materials such as informed consent forms and instructional materials; and perspectives on data analysis and interpretation of findings. People with lived experience of pain and/or a substance use disorder and other relevant collaborators can be engaged at any of these decision points.
Why Engage?
HEAL seeks effective engagement of people with lived experience in research. Effective engagement pdf  213.44 KB can help achieve health equity by building trust and respecting cultural traditions. It can also facilitate people's interest in research; help encourage participation, recruitment, and retention; and improve outcomes for the people and communities the research serves.
Effective engagement can benefit the people with lived experience who take part in the research. It can provide them with new skills, opportunities to connect with others with shared experience, and greater awareness of cutting-edge research on their condition.
What Does Effective Engagement Look Like?
Effective engagement:
Requires open dialogue.
Is collaborative and mutually beneficial.
Shares power.
Means communities feel that their input is valued and acted on.
Aligns with individual and community needs, cultural values, and preferences for how they offer feedback.
Can be measured.
Consider these examples of common scenarios experienced by people with lived experience who advise on studies and opportunities to ensure effective engagement, rather than tokenism.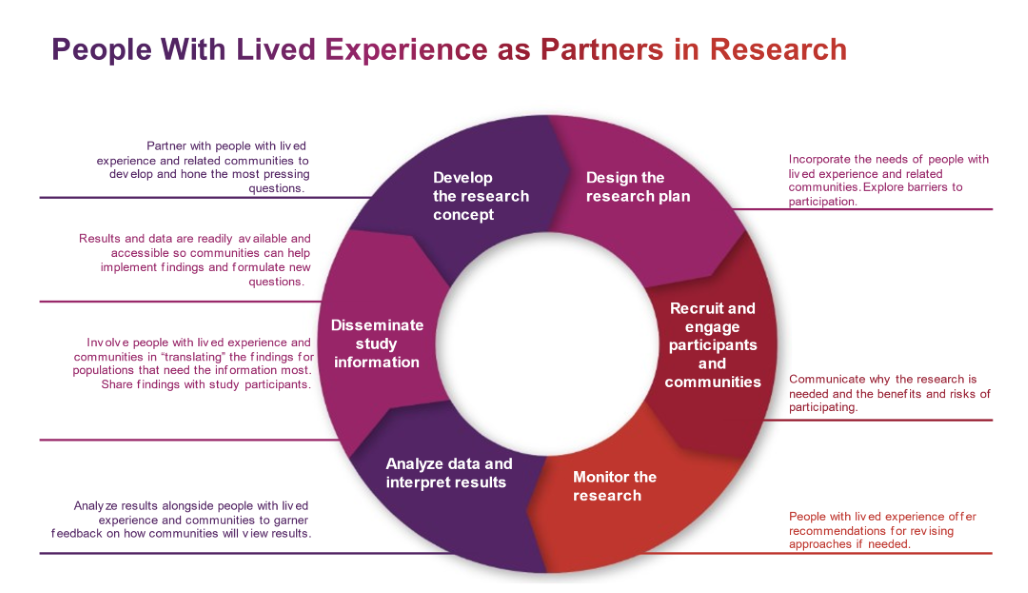 A circular flowchart labeled "People With Lived Experience as Partners in Research​" depicts six steps in shades of purple, pink, and red.
The first section is titled, "Develop the research concept" and includes the explanation, "Partner with people with lived experience and related communities to develop and hone the most pressing questions" as context.
The second section is titled, "Design the research plan" and includes the explanation, "Incorporate the needs of people with lived experience and related communities. Explore barriers to participation" as context.
The third section is titled, "Recruit and engage participants and communities" and includes the explanation, "Communicate why the research is needed and the benefits and risks of participating" as context.
The fourth section is titled, "Monitor the research" and includes the explanation, "People with lived experience offer recommendations for revising approaches if needed" as context.
The fifth section is titled, "Analyze data and interpret results" and includes the explanation, "Analyze results alongside people with lived experience and communities to garner feedback on how communities will view results" as context.
The sixth section is titled, "Disseminate study information" and includes two paragraphs as context. The first paragraph reads: "Involve people with lived experience and communities in 'translating' the findings for populations that need the information most. Share findings with study participants." The second paragraph reads, "Results and data are readily available and accessible so communities can help implement findings and formulate new questions.​"
Examples of Engagement Throughout the Research Lifecycle
Engaging in Design of Research
HEAL researchers are partnering with tribal community members to integrate Native cultural strengths and healing traditions into the successful treatment for opioid use disorder in primary care and addiction treatment clinics serving American Indian and Alaska Native people.
In the HEAL-funded Hemodialysis Opioid Prescription Effort (HOPE) study, patients like Dawn Edwards have designed materials for recruitment, participated in the writing of informed consent documents, and designed and participated in introductory videos that can be used to present the study to potential participants. 
Engaging in Awareness and Recruitment
Afton Hassett, Psy.D., of the HEAL-funded Back Pain Consortium (BACPAC) research team, talks about effective patient and community engagement. Community members in Ann Arbor, Michigan, are working with HEAL scientists to improve research recruitment and engagement through tailored strategies.
Engaging in Dissemination
The HEALing Communities Study is working with communities to disseminate and implement evidence-based practices to help decrease overdose deaths in states hardest hit by the opioid epidemic.
Research results need to benefit people living with pain, addiction, and other co-occurring conditions but too often get stuck in journal articles and conference presentations. HEAL Connections was funded to translate HEAL research into action. The center's goals are twofold: to create pathways to further build and sustain community partnerships, and to support HEAL researchers in meaningfully sharing results with communities and stakeholders that will benefit most from research findings. Diverse partnerships with HEAL collaborators, associations, communities and panels of people with lived experience guide the center's efforts to share HEAL-funded research in ways that meet diverse community needs.