Harnessing the Power of Patients and Stakeholders to Advance the Research Goals of the NIH HEAL Initiative
Mon, 3/15/2021 - 1:00pm - 4:30pm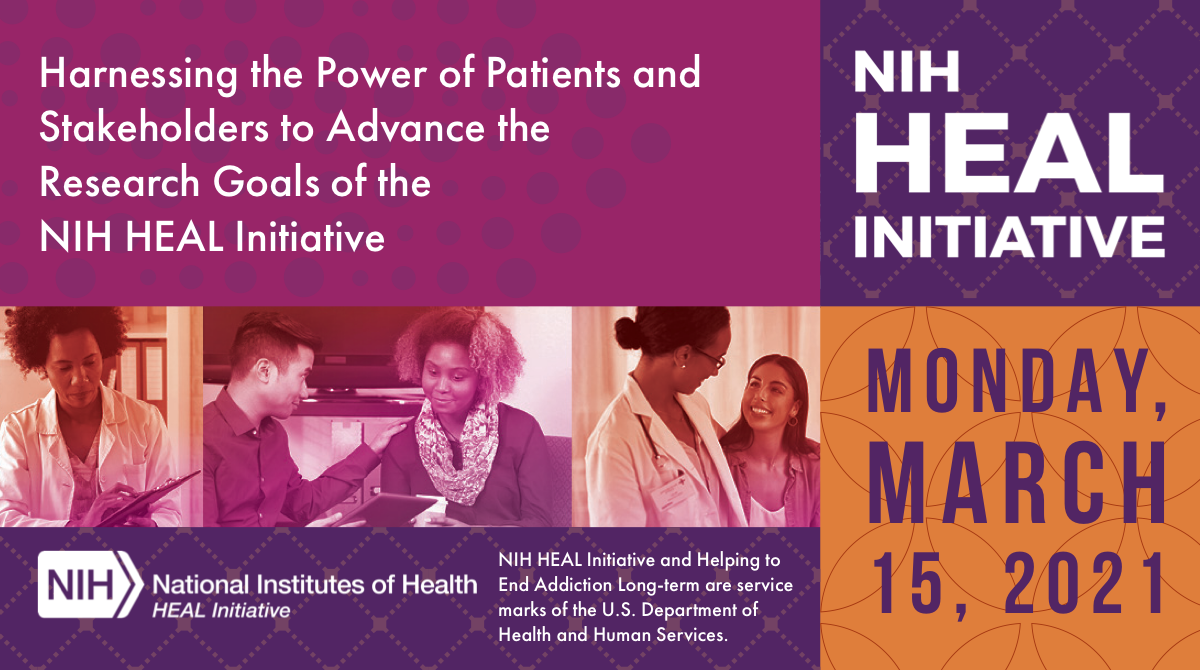 Goal
Showcase patient and stakeholder engagement ongoing in current HEAL trials and studies.
Agenda
Monday, March 15, 2021 Zoom Webinar
1:00 pm — Introduction and Purpose
Dr. Rebecca Baker
1:15 pm  — The Importance of Patient and Stakeholder Engagement
Dr. Nora Volkow, Director of the National Institute of Drug Abuse
1:25 pm  — Patient and Stakeholder Experiences with Engagement Efforts
This session aims to understand how patients have been involved in different aspects of HEAL trials, such as a study's design, planning and recruitment, DSMBs or other advisory roles. Patient and stakeholder participants will discuss how they got involved, their involvement throughout the continuum of research and areas for improvement.
Jessica Hulsey-Nickel, Addiction Policy Forum (Moderator)
Anna Bartholomew, Prescription After Cesarean Trial
Kevin Charles, NIDA Clinical Trials Network
Imani Walker, NIDA Clinical Trials Network
Dawn P. Edwards, Hemodialysis Opioid Prescription Effort
Chris Veasley, Chronic Pain Research Alliance
Karen Lizzy, Cowlitz Tribal Health Seattle
2:25 pm — Q&A session
2:45 pm — HEAL Investigators Presentations 
This panel will showcase how HEAL investigators have incorporated patient and stakeholder engagement in their trials. Case studies will be provided. Participants will discuss the benefits of engagement across the research process and give other investigators an opportunity to see the impact of engagement in studies.
Dr. Lauren Brinkley-Rubinstein, PhD, University of North Carolina (HEAL study: Justice Community Opioid Innovation Network)
Dr Ardith Doorenbos, PhD, RN, FAAN, University of Illinois-Chicago (HEAL Study: Hybrid Effectiveness-Implementation Trial of Guided Relaxation and Acupuncture for Chronic Sickle Cell Disease Pain)
Dr. Megan Irby, PhD, MS, MS, Maya Angelou Center for Health Equity, Wake Forest School of Medicine (HEAL Study: Internet-Delivered Management of Pain Among Cancer Treatment Survivors)
BREAK (10 min)
Dr. Kirsten Johansen, MD, University of Minnesota-Hennepin County Hospital (HEAL Study: Hemodialysis Opioid Prescription Effort)
Dr. Richard Schottenfeld, MD. Howard University (NIDA CTN)
Dr. Linda Sprague Martinez, PhD, Boston University (HEALing Communities Study)
Dr. Kamilla Venner, PhD, University of Mexico (NIDA CTN)
4:00 pm — Q&A session
4:30 pm — Closing Remarks
5:00 pm — Adjournment
HEAL Patient Engagement Workshop Planning Committee
Danielle Haney, PhD (NINDS) — Chair
Angela Arensdorf, PhD (NCCIH)
Bisi Ayodele, CRNP (NCCIH-Intramural)
Alexis Bakos, PhD, MPH, RN (NCI)
Leslie Derr, PhD, (NIAMS)
Maurice Davis DHA, MPA-MHSA (NICHD)
Marcy Fitz-Randolph, DO, MPH (NIDA)
Petra Jacobs, MD, MHS (NIDA)
Paul Kimmel, MD (NIDDK)
Monica Longo, MD (NICHD)
Elena Koustova, PhD, MBA (NIDA)
Cheryse Sankar, PhD (NINDS)
Andrew Siddons, MPH (NINDS)
Laura Wandner, PhD (NINDS)