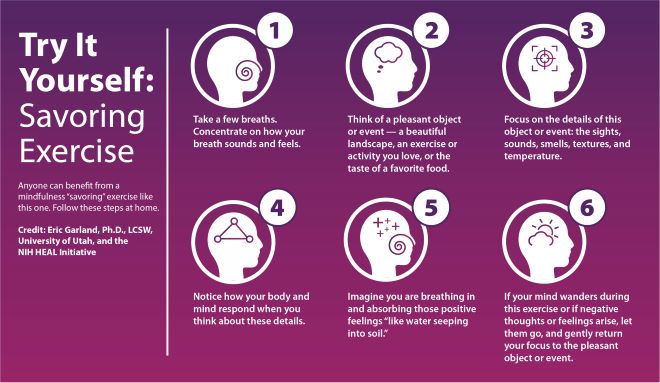 Confronted with patients with both chronic pain conditions and opioid use disorder (OUD), clinical psychologist Nina Cooperman, Psy.D., wanted a holistic approach.
Patients were also seeking comprehensive therapies that care for their whole being. They noticed that pain brought out emotional states that, in turn, affected their bodies, aggravating their pain, or increasing their desire for opioids. Some realized that pain medications alone were not addressing the root of their problem.
For nearly 20 years, Cooperman, associate professor of psychiatry in the Division of Addiction Psychiatry at the Rutgers Robert Wood Johnson Medical School, has focused on new ways to address substance misuse and addiction. Now, as a HEAL investigator she was interested in developing a mindfulness program to meet the needs of people with pain and with OUD. 
Mindfulness Oriented Recovery Enhancement had been effective in "aiding people's recovery from alcohol dependence, opioid misuse, and nicotine addiction; relieving pain and symptoms of post-traumatic stress disorder; and reducing video game addiction and unhealthy eating behaviors," Cooperman said.
So, the researchers wondered if it could also work for people with pain and OUD.
Cooperman leads the Mindfulness Oriented Recovery Enhancement (MORE) as an Adjunct to Methadone Treatment for Opioid Use and Chronic Pain Management project, which tackles both of the NIH HEAL Initiative's goals -- enhancing pain management and improving treatments for opioid misuse and addiction.
Eric Garland, Ph.D., LCSW, of the University of Utah, a co-investigator for the HEAL project, developed MORE as a way to combine the strengths of three different therapeutic techniques:
Mindfulness is a mental state achieved by focusing one's awareness on the present moment, while calmly acknowledging and accepting one's feelings, thoughts, and bodily sensations. Mindfulness skills can help people to break away from unhealthy ways of thinking and behaving.
Reappraisal skills can help people shift their thinking and develop new, more helpful perspectives, beliefs, and actions to deal with stressful events that might trigger relapse. Instead of trying to escape from uncomfortable feelings or stress with unhealthy coping behaviors, people can build resilience by restructuring negative thoughts.
Savoring skills provide a positive sense of reward needed to drive and sustain behavioral change. This aims to strengthen people's ability to take pleasure in naturally rewarding events and experiences. 
Other therapeutic models incorporate mindfulness and reappraisal, but this approach also includes an emphasis on savoring skills: guiding people to experience and value healthy rewards by increasing their enjoyment of the simple things. Now, Cooperman wondered, could this model help with people coping with chronic pain and receiving treatment for OUD at the same time?
Addressing the challenges of OUD treatment and pain management
Chronic pain affects more than half of people being treated with methadone for OUD. Having untreated pain increases the risk people with OUD will stop addiction treatment or relapse. Cooperman wanted to know whether mindfulness, reappraisal, and savoring skills could help people with chronic pain who are also receiving OUD treatment learn to better cope with pain, tolerate cravings without using opioids, and improve quality of life.
Projects like this one test nonpharmacological interventions that are used for both pain and OUD, explained Helene Langevin, MD., director of the National Center for Complementary and Integrative Health, which funds the research under the NIH HEAL Initiative's Behavioral Research to Improve Medication-Based Treatment (BRIM) program.
"These interventions [...] are not used instead of conventional treatments. But they really need to be used in an integrated way. There are situations, obviously, where drugs are extremely important and need to be used. It's just that it should not be our only tool in the toolbox," Langevin said.
Many clinical guidelines for the management of chronic pain increasingly recommend nonpharmacological interventions as a first line of treatment, but they're not always being implemented, Langevin said.
"These are clinical trials that are performed in health care settings, directly in health care systems to test the utilization of these treatments to see if they work in the real world," said Langevin.
Cooperman first fine-tuned the approach to test its effectiveness in a pilot study. The study took place in two clinics with 30 people who were on medication for OUD and also had chronic pain.
All pilot participants received methadone treatment. Half of the participants received individual and group therapy, as usual, and the other half received individual and group therapy plus they participated in eight 2-hour MORE sessions. A clinician led the group in mindfulness techniques to increase awareness of and control over cravings, provided guidance in noticing and releasing negative reactions to emotional and physical pain, fostered reappraisal skills to help regulate emotions, and led savoring exercises.
Classic mindfulness focuses on accepting what is without judgment, but in this approach, they try to increase healthy rewards and increase people's enjoyment in the simple things, Cooperman explained. "For example, we asked people to notice and appreciate the beauty of a flower. Or we gave out samples of chocolate and invited people to notice and savor its smell, taste, and each step of the eating experience."
Between sessions, participants responded to twice-daily text messages asking about opioid cravings and pain levels. Participants also had 15 minutes of daily homework during which they used an audio recording to guide mindfulness, reappraisal, and savoring activities.
Cooperman was amazed by the pilot participants' enthusiasm for the group sessions.
"I've worked with many other groups, and it's often difficult to get people to engage and return," Cooperman said. "With the MORE program, the response has been overwhelmingly positive. One hundred percent of participants attended at least half of the sessions, and 40 percent didn't miss a single one."
A larger study is on the launch pad
Based on the results of the pilot study, Cooperman and her team are ready to start a larger study with 154 participants at three clinics. The team will assess participants eight weeks after the sessions end to see whether the effects last.
Cooperman hopes to launch the study during the summer or fall of 2020 but is prepared to modify the study in light of the coronavirus pandemic.
"We're watching the situation, but we're prepared to conduct group sessions remotely, if necessary," she said. "We'll equip people with tablet devices so they can participate online."
Mindfulness can help everyone
Cooperman pointed out that mindfulness programs program can improve life for anyone, not just OUD patients. It's a healthy tool that anyone can use wherever they are, whenever they need it.
"When I was working in a hospital with people who had serious medical problems, they often said that mindfulness practices were the most valuable tool they learned to cope with the stress and acute pain," Cooperman said. "What's more, we're learning that MORE not only helps our clients who are in recovery or have issues with OUD, but our clinic staff also report that the program also helps them."
Research Program:
Research Focus Area: