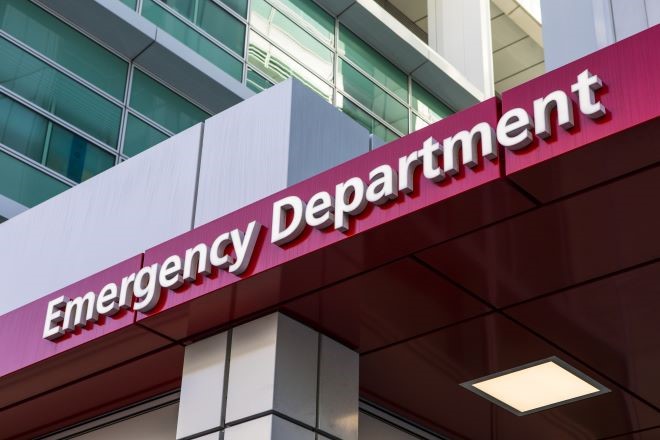 Matching the urgency of the opioid crisis, researchers are pursuing ways to give people help when and where they need it. For many people seeking relief for symptoms of withdrawal or help to overcome their addiction with opioid use disorder, the hospital emergency department is that place: providing a 24/7/365 opportunity to connect people to treatment to alleviate withdrawal symptoms, reduce cravings for opioids, and save lives.
Gail D'Onofrio, M.D., M.S., and David Fiellin, M.D., both of the Yale School of Medicine, are leading a team of researchers funded by the Helping to End Addiction Long-term® Initiative, or NIH HEAL Initiative®, on the Emergency Department-INitiated bupreNOrphine and VAlidaTIOn Network Trial, or ED-INNOVATION. This study aims to put into place a process for starting buprenorphine and referral to ongoing addiction care in 30 diverse emergency departments across the United States.
The research will also compare the effectiveness of under-the-tongue, or sublingual, buprenorphine (the most commonly used version today and considered the standard of care) with an extended-release, injectable version that persists in a patient's body for 7 days. The objective is to determine whether the extended-release form of this medication increases engagement in treatment after a week, and then after a month, after visiting the emergency department. It is part of NIH HEAL Initiative research within the National Drug Abuse Treatment Clinical Trials Network.
As context, a new study published by D'Onofrio and Andrew Herring, M.D., of Highland Hospital-Alameda Health System in Oakland, California, showed that patients in opioid withdrawal could tolerate up to three to four times as much buprenorphine as is normally given, keeping drug levels steady and around in the body longer, blocking withdrawal and cravings.
Patient-Centered Care
"I trained at Boston City Hospital in the 1980s, and it was a war zone of violence," says D'Onofrio. At the time, she had planned to become a trauma surgeon, but quickly she learned that witnessing so much trauma became difficult.
"There were so many gunshots that you were just drenched in blood all day long," she remembers.
It was then that D'Onofrio reconsidered her goal and realized that most of the trauma could be traced to drugs: at the time, from the crack cocaine epidemic. She decided to focus on treating and researching substance use disorders.
A major push of addiction medicine today, including in the emergency department, is providing patient-centered care and breaking down barriers to treatment. Although for more than 20 years primary care providers have been able to prescribe buprenorphine as a safe and effective treatment for opioid use disorder in an outpatient setting, many people with substance use disorders do not have a primary care provider. Instead, they rely on an emergency department for care.
Unfortunately, though, most people who could benefit from buprenorphine in the emergency department aren't getting it, exacting an enormous toll. An estimated 2 million individuals across the United States have opioid use disorder, which has an estimated economic burden of $5 billion to emergency departments nationwide. That's not to mention the huge personal and professional costs of illness and loss of life for individuals, families, and communities.
An Unmet Need
The American College of Emergency Physicians and other professional organizations have advocated for emergency departments to fill this care gap by prescribing buprenorphine. Federal agencies like the Substance Abuse and Mental Health Services Administration have issued guidelines on exactly how to provide the treatment, which takes less than 90 minutes, faster than a typical urgent care visit.
Untrained emergency department staff and stigma about addiction remain big problems, though, and the missed opportunity is huge. According to a study D'Onofrio conducted in 2015, 80 percent of people who were started on buprenorphine in the emergency department were still in treatment a month later: a major step toward a stable path to recovery.
But the short-term benefit is also significant for people in withdrawal, D'Onofrio notes: "I can make them feel better in 30 minutes."
For a complex condition like addiction, convincing someone that treatment can set their life on a more stable course can be a challenge. But, says D'Onofrio, family, friends, and healthcare providers need to keep trying.
"You can't always talk someone into starting treatment – you you can't always change their mind right away," she says, pointing to a need for give and take. That may not be easy in a high-pressure, high-volume emergency department. But she urges that persistence pays off.
"I often tell a patient, 'Why not try it for a week,'" she says, "and then they start to feel better, like a normal person, and they like it. 'I can do this,'" they tell her.
A key concept behind the approach D'Onofrio pioneered and is currently testing on a larger scale with the ED-INNOVATION study is that for healthcare, the individual matters more than the place. Part of her everyday work to care for people who use drugs is to establish community connections – to identify people and places who can bridge people to the hospital, resources, and people who can help them on their journey to better health.
D'Onofrio explains that she's learned a lot by speaking with healthcare providers, local officials, and community members.
"They get what's going on in the community. Everybody knows who everybody is."
I've Been There – I Can Help
Peer support, also called recovery coaching, is another strategy showing promise to help get people the treatment they need when they end up in an emergency department. The idea is to enlist the help of people who have traveled a similar journey of drug use and successfully found recovery for at least a few years.
"Most people with substance use disorders who agree to treatment services get better, but the overwhelming majority never engage," echoes Rich Jones, Executive Vice President of Heritage Health Solutions and Executive Director of Heritage CARES, a national provider of peer recovery support services. 
He is working to determine effective engagement strategies for recovery coaches, who are on call to interact with people in an emergency department – to listen and encourage them to consider treatment.
In recovery for 20 years himself, Jones is studying a technique called assertive community engagement that takes into account the real-world challenges of people with longstanding drug use. Through the NIH HEAL Initiative, Jones teamed up with Kelly Barth, D.O., of the Medical University of South Carolina to test models of peer support for overdose survivors in emergency departments in three different states who are using the "screen and treat" model D'Onofrio is now testing in the multi-state ED-INNOVATION study.
"[Gail] D'Onofrio did groundbreaking work showing the value of buprenorphine initiation in the emergency department," Barth notes, "but we're finding that people who have recently overdosed are particularly hard to engage; understandably, they just want to go home." That is a big problem, since such individuals are at the highest risk for a repeat overdose.
To improve outcomes for this high-risk population, Barth and Jones are leading the NIH HEAL Initiative-funded Peer Intervention to Link Overdose Survivors to Treatment trial through the National Drug Abuse Treatment Clinical Trials Network.
To engage successfully with people who have recently overdosed, specialized recovery coaches for overdose survivors focus more intently on assertive engagement strategies and harm reduction – providing education about overdose reversal with naloxone, including encouraging them to carry it with them.
Barth hopes that peer recovery coaches can provide a friendly, welcoming face – and a lifeline to reduce the risk of another overdose in people not yet ready for traditional treatment.
"Recovery coaches in the emergency department are major stigma busters," she adds.
It's clear that for people with opioid use disorder who rely on the emergency department for care, both recovery support and lifesaving medications are part of the solution for helping these individuals find long-lasting recovery.