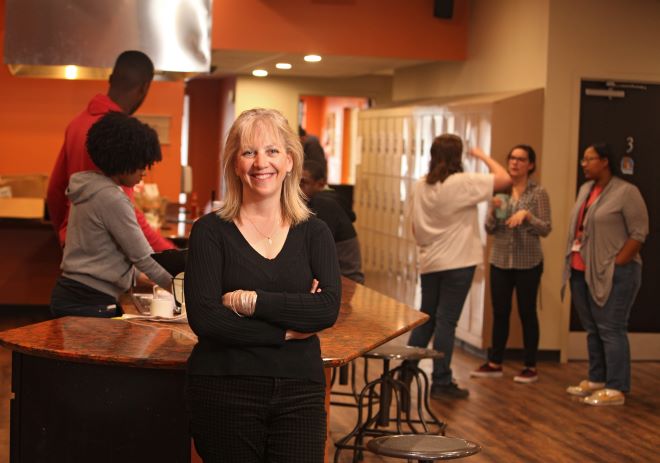 Experiences of homelessness and opioid use affect young people at a vulnerable time in their lives and can set patterns that are hard to break. Economic hardship is a common route to homelessness for parents and their dependent children. Many teens become homeless after escaping abuse or neglect, or as a result of parental substance use and flight from the foster care system pdf  2.67 MB.
According the most recent data, more than 20% of homeless young people reported prescription drug misuse in the previous month, and nearly 50% reported it over their lifetime. Homeless children have the highest rates of opioid misuse among youth in the United States. Without a caring, protective home environment, many homeless young people seek some sort of release to alleviate their pain. Easy access to opioids creates almost a perfect storm that can lead to opioid use disorder (OUD).
"Without a home and facing a bleak future with few meaningful activities to fill their days, young people living on the streets despair," said Thomas Bartlett, who volunteers at Star House, the only drop-in center for homeless youth in central Ohio.
A recent Ohio State graduate with a degree in social work, Bartlett himself underwent bouts of homelessness throughout his teenage years. He knows first-hand about the need for reliable food, shelter, and safety to resist using opioids or other drugs.
Now, he serves on the community advisory board for the HOME (Housing, Opportunities, Motivation and Engagement) Randomized Trial, a study funded by the Helping to End Addiction Long-term® Initiative, or NIH HEAL Initiative®, to determine whether providing housing and other services to homeless youth can prevent opioid misuse. HOME is one of nine studies that NIH has funded, that along with a coordinating center, form a consortium to develop and test nine different strategies to prevent opioid misuse and OUD among older adolescents and young adults in 10 states.
Ohio State researcher Natasha Slesnick, Ph.D., M.S., and her team are partnering on the HOME study with Kelly Kelleher, M.D., M.P.H., and his team at the Columbus, Ohio Nationwide Children's Hospital.
Although providing youth housing to prevent OUD may seem a logical solution, it had not been tested on a large scale before the NIH HEAL Initiative. The 5-year study will be the first to use a rigorous scientific approach, a randomized, controlled trial, to test whether a housing strategy can prevent opioid misuse among homeless youth. Importantly, while the study aims to determine the effects of housing on OUD prevention, participants in both groups will receive opioid and related prevention services that include outreach, HIV prevention, and motivational interviewing.
Homelessness: A hidden problem among youth
Slesnick has worked with homeless youth for many years. In 2006, with support from NIH's National Institute on Drug Abuse, she founded Star House, and now some of its clients will take part in the NIH HEAL Initiative project.
"People think that homelessness among youth is rare, but nearly 1 in 10 young people experiences homelessness at some point between the ages of 18 and 25 years," Slesnick explained, adding that family problems are often to blame.
When parents struggle, children struggle," Slesnick said, explaining that children usually leave home trying to escape untenable family situations — trauma, violence, neglect, chaos, or substance-using parents.
According to the Substance Abuse and Mental Health Services Administration (SAMHSA), there are nearly 1.7 million homeless children under the age of 18: a conservative estimate because it doesn't account for the many young people who do not seek help, cannot be tracked, or disappear.
Slesnick notes that another reason homeless youth are at high risk for developing OUD because they are lacking social support systems.
That's why Kelleher and Slesnick hope their project — providing housing to homeless youth — could be an effective opioid-prevention tool.
Housing first: A way to prevent starting opioids?
Meeting the housing and social needs of at-risk children may "inoculate" them against opioid misuse, the researchers hope.
"Homeless kids endure unimaginable hardships, but they have proven they can survive on the streets. They are resilient," says Bartlett who leads a course on educational navigation at Star House. "When they have stable housing and access to social services, it's more likely they can channel their strengths into education and skills development that can transfer to meaningful jobs."
The NIH HEAL Initiative's study will use the Strengths-Based Outreach and Advocacy intervention, which emphasizes developing and sustaining a relationship between outreach workers and their clients. Advocates help participants find housing, negotiate with landlords, set up utilities, arrange for medical care, and register for classes or job training. The approach centers on an individual's strengths — putting in their hands the responsibility for making decisions about services they need, either from the system or from an advocate.
For this research project, 240 homeless youth between ages 18 and 24 who are at high risk for opioid misuse but do not have OUD will be sorted randomly into two groups. One group will receive opioid-related and other prevention services through the outreach intervention; the other will receive the outreach intervention plus paid rental housing and utilities for six months.
The study team will check in with participants after three, six, nine, and twelve months to assess whether they have used opioids. At the end of the study, an economic analysis will weigh the cost of the interventions to determine their value for both youth and society.
A pilot study with 21 young people confirmed the feasibility of the housing intervention and the ability to collect data on participants' substance use. This initial work was done with the participants (half female) whose average age was about 20. The group was diverse: 80% were Black/African American, and 40% were sexual and gender minorities. Most had been homeless for about a year.
The researchers anticipate launching the second phase of the project in fall 2020.
Community engagement
This NIH HEAL Initiative project would be impossible without support from community partners, says Kelleher, a pediatrician whose research focuses on health care services for children and their families, especially those affected by substance misuse, mental health conditions, or violence. Kelleher and his team at Nationwide Children's Hospital will handle housing arrangements, rent and utility payments, legal matters, and other logistics for the project.
"We're working with our community partners on long-term housing vouchers and other ideas to continue and expand housing options for homeless youth that will extend beyond the life of this project," Kelleher said, adding that he was overwhelmed by the community's support for the project.
"Many in the community bent over backwards to make this project work," he says.
Economic fallout from the COVID-19 pandemic is likely to cause even more young people to be displaced from their homes — making this NIH-funded research project more important than ever. Solid evidence from a well-designed study showing that housing for homeless youth helps prevent OUD could influence policy, practices, and funding across the nation.
"As someone who's experienced homelessness," Bartlett said, "just the fact that so many people in our community care about the issues of youth homelessness and prevention of OUD gives me great hope. All these kids have limitless potential. They just need a home, some support services, and someone to believe in them."
Research Program:
Research Focus Area: