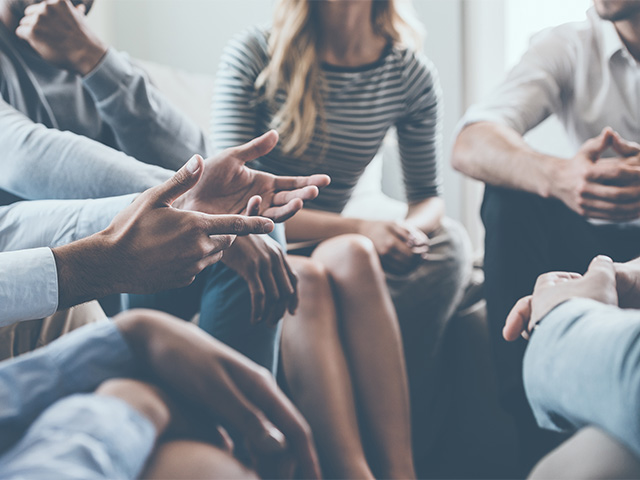 "The secret of the care of the patient is caring for the patient."
So wrote Francis Peabody, M.D. in the March 19, 1927 issue of the Journal of the American Medical Association. Directed to medical students nearly 100 years ago, Peabody's maxim is still timely and elegantly simple: The healing process is as much about a patient's symptoms and lab values as it is about how he or she thinks and feels.
Paul Kimmel, M.D., of the National Institute of the Diabetes and Digestive and Kidney Diseases (NIDDK), thinks often about Peabody's wisdom; he makes the case that including patients directly and meaningfully in research is the best and only route to findings that will improve patient care. Kimmel, who works on finding treatments for kidney diseases, is quick to note that expecting patients to participate in research—without first asking them what they think and understand about their illness, treatment priorities and preferences—seems futile.
"I've never been on dialysis, nor have I experienced life-altering pain typical of some of these terrible conditions," says Kimmel, adding that he's also a White male, whereas patients with kidney disease are disproportionately Black/African American.
Absent the personal experience of living with a disease, Kimmel asserts, scientists have limited information about what it will take to treat them; patient voices need to be part of research at every stage. That includes planning how studies are done, developing culturally appropriate recruitment materials, helping spread the word about newly developed treatments, and more.
The Helping to End Addiction Long-term Initiative®, or NIH HEAL Initiative® is dedicated to patient engagement that can help bridge the gap between a treatment's efficacy (whether a treatment can work) and effectiveness (whether it actually will work in the real world where actual patients live). NIH is hosting a virtual workshop on August 26, 2020 to discuss and share best practices for working collaboratively with patients in studies of new therapies for pain. Register here.

Words matter
Even recently, scientists referred to people who participated in clinical research as "subjects"—hardly a welcoming term. Today, the research world has come a long way. Having patients as true colleagues in research is taking shape as the best way to do solid science.
Aleksandra Zgierska, M.D., Ph.D., is a physician scientist at Pennsylvania State University College of Medicine and an NIH HEAL Initiative researcher who studies opioid use in pregnant women. She describes her medical training as seeing diseases mostly through a basic science lens: via disrupted genes and molecules that lead to faulty cells, tissues, and organs, and that could be "fixed" through medical treatments.
But as Zgierska's career evolved—she is now an addiction and chronic pain researcher— she began to appreciate that "my patients' voices were loud and clear," and she knew she wouldn't get very far without patient buy-in for her research to find new treatments to help them.
"I realized we absolutely had to consider the 'end-user'."
Zgierska recalls one instance several years ago when she and her colleagues were planning a clinical trial to test the value of mindfulness and cognitive behavioral therapy to alleviate chronic low back pain. They sought affirmation from patients on what the scientists considered a really clever name for the study: "Healthy Mind, Healthy Back."
The patient advisors for this study didn't agree. They considered the name stigmatizing and condescending.
"What's wrong with our minds?" "Is it our own fault we have back pain?" Working together, scientists and patients came up with an option everyone was happy with: Strategies to Assist with Management of Pain (STAMP).

It was a turning point for Zgierska. Together, the researchers and patients pdf  1.12 MB worked not only to create a better name, but also to find better ways to recruit and retain patients into the study. These patient advisors also counseled Zgierska and her team on how to steer clear of pain/opioid stigma as well as better ways to collect data. The clinical trial is now funded by the Patient-Centered Outcomes Research Institute, which has funded hundreds of projects in which patients have been included in community forums, advisory panels, and as coinvestigators alongside the study scientists.
Zgierska interacts frequently with patients as allies in her research studies, an investment that should be extremely important for her upcoming pilot study involving pregnant and postpartum women, many of whom have used opioids. Recruiting these women into research is very difficult, she explains, due to their serious concerns about consequences facing those who use drugs, including possible incarceration or losing custody of a child.
She has developed an innovative strategy to make recruitment less scary for her patients as well as to also train people in recovery to serve as patient navigators who will be permanent members of her research team. Zgierska recently published a paper describing how to talk about addiction effectively, without stigma, and patients are co-authors.
"It's all about trust," says Zgierska. "I'm hoping that peer support and navigation, made stronger through shared lived experiences, will make it easier for individuals with opioid use disorder to participate in research that can help them and others."  
Putting patients first
"Is this approach realistic, and will it help me?" or "What are you going to measure and is that important to me?" are key questions patients want answered before getting involved in a research study. This is especially relevant for studies of "invisible" conditions like chronic pain, says Christin Veasley, who has lived with chronic pain since her teens and is a pain research and engagement patient advocate.
"In the past, pain researchers focused—almost exclusively—on measuring pain severity," says, "but a number on a pain scale only tells a part of anyone's individual story."
Although pain intensity matters, Veasley explains, its importance pales in comparison to function, sleep, thinking clearly, and having a good quality of life. Veasley, who serves as a patient advisor on Zgierska's study, said that it was engagement and input from patient partners that led to a key decision to expand study measures to include function and quality of life.
"I think everybody agrees that engaging patients meaningfully is the right thing to do," says Veasley, "but because it is an emerging practice, specific guidance for the pain community isn't available, and many researchers haven't been trained in how to do it well."
The NIH HEAL workshop aims to garner successful strategies to guide the pain research community toward making patient engagement routine, as it has come to be in other areas of research such as in addiction research.
Fortunately, resources from other health areas, such as cancer and Parkinson's, are available to help scientists learn about the principles of patient engagement and to translate best practices  into their pain studies. Many universities offer consulting services on working with stakeholders, including patients. Scientists within the nationwide NIH-funded Clinical and Translational Science Award program have created the Community Engagement Studio project, a structured approach to obtaining meaningful input from stakeholders to inform research. In 2019, the FDA issued The Voice of the Patient, guidance on how to include patient input in drug development.
A seat at the table
Like Aleksandra Zgierska, Paul Kimmel believes that doing clinical research without patients in decision-making roles makes little sense: a sentiment driven home to him a few years ago.
In 2017, Kimmel and his NIDDK colleagues launched a nationwide study of kidney donors to better understand concerns about the health of recipients receiving donor organs that might transmit risk of disease. People who have a particular genetic signature have a higher risk for kidney disease—and the people who have this genetic signature are almost exclusively of African descent.
The imbalance of racial/ethnic backgrounds and cultural experiences between patients in the study population and the scientists was glaring, and Kimmel knew he had to do something about it.
Recognizing the importance of having study leadership from people whose lived experiences align with those of participants, he helped put together a Community Advisory Council that included two African American patients with kidney disease (or their family members) from each research site.
"This group provides guidance on overall design, input on how to do the study, and advice about recruiting patients, and it's been tremendously helpful for doing good science," Kimmel says.
For this study, Kimmel involved patients in the research process from the very beginning, inviting patients to contribute to the first planning workshop and then preparing them to participate alongside the scientific team.
On the first day of the research meeting, all of the scientists (and their trainees) took their seats at the main table in the conference room. No seats remained, so patients sat in chairs away from the table, mostly in the back.
Seeing immediately that this structure wasn't inclusive, Kimmel invited all patients to move to the main table, and he instructed scientists to send their trainees to the surrounding chairs. He also set ground rules, advising everyone in the room: "If you don't understand something, the meeting will stop. Raise your hand and ask for it to be explained."
"The whole atmosphere changed: it was the most amazing thing I've ever seen." Kimmel described. "From that point on, we talked about 'us,' not 'them.'"
The NIH HEAL Initiative wants to learn from examples of successful strategies used by Kimmel, Zgierska, and others that meet patients where they are and invite them to join the research process. The August 26, 2020 workshop will be the first in a series to explore this important aspect of pain and addiction research, essential to the success of the initiative's mission.
Research Program:
Research Focus Area: