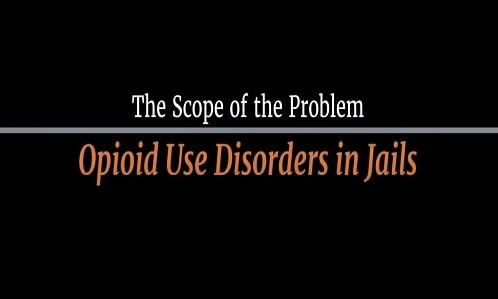 Jails are thought to be 'Ground Zero' for the opioid epidemic in the nation.
That's because in addition to having high rates of opioid use disorder (roughly half of people who are incarcerated), the risk of fatal overdose is 120 times higher for people recently released from incarceration compared to the general population.
Edmond Hayes, who is director of an opioid treatment program that serves people in rural Western Massachusetts jails and prisons and Assistant Superintendent of the Franklin County Sheriff's Office sees this reality every day and is trying to help.
Hayes is also one of dozens of community partners participating in the Helping to End Addiction Long-term® Initiative, or NIH HEAL Initiative® Justice Community Opioid Innovation Network, or JCOIN. JCOIN is a HEAL-funded network of researchers, local and state justice agencies, and community-based treatment providers working together to develop real-world interventions that can address the unique needs of people involved in the justice system who have opioid use disorder.
An Opportunity for Healing
The vast majority of incarcerated individuals (85%) have a substance use disorder or a history of substance use, stemming from the longstanding criminalization of drug use and addiction in the United States. The vision of the JCOIN research program is that every person in jail, prison, or a court-supervised program deserves access to medical care, which includes effective opioid use disorder treatment. To date, 13 JCOIN multisite clinical trials, and more than 50 additional JCOIN research projects are underway across 38 states and in Puerto Rico.
This HEAL-funded research aims to address the obvious but troubling reality that most people in the justice system do not have access to treatment for substance use disorders. In addition to funding and logistical complexities, a key barrier is stigma against medications for opioid use disorder – both outside and within justice settings. This is a stubborn reality HEAL researchers and community partners are working to change.
"It's taken 8 years to try and convince folks that opioid treatment is meant to save lives," says Kashif Siddiqi of the Sheriff's Office in Middlesex County in Eastern Massachusetts who is also on the JCOIN team, explaining that many staff members and people who were incarcerated took a while to believe that treatment "is not just replacing one drug with another drug."
When Siddiqi and his team began offering treatment in 2014, extended-release injectable naltrexone was the only option available to them. One thing that has helped shift mindsets over time, he says, is education about the value of treatment and also giving people choices – including linking individuals to community services when they leave jail.
"We're now dosing 110 people per day on any one of the three forms of treatment, mostly suboxone (buprenorphine) and methadone," Siddiqi says.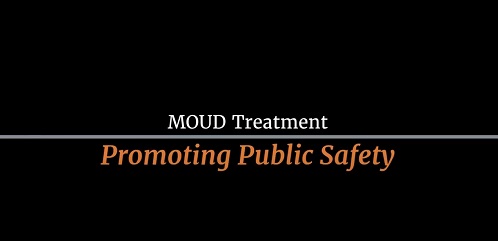 Justice System: Meet Public Health
What role can HEAL research play in connecting more people to treatment? One way is by generating evidence that treatment has a role beyond helping individuals – that there are many benefits for communities, including public health and public safety.
"The justice system is at the forefront of public health innovation here in Massachusetts," explains Elizabeth Evans, Ph.D., of the University of Massachusetts, Amherst. Evans is a principal investigator of the Massachusetts JCOIN research hub evaluating implementation of the state's jail-based opioid treatment pilot program. "It gives us the opportunity to learn whether a program like this is effective, how it can be implemented, and what it costs."
Laws help too.
In 2018, Massachusetts became the first state to mandate by law that five county jails offer incarcerated individuals who have opioid use disorder any of the three medications approved by the U.S. Food and Drug Administration for treatment of opioid use disorder and to help them continue treatment after their release. That includes, for example, links to community services like care navigators that can help with follow-up appointments to healthcare providers and pharmacies and other support services.
The new law also requires proof that the approach works and includes a mandate for the state's Department of Public Health to evaluate the program's effectiveness. JCOIN researchers are participating in this evaluation, analyzing the impact of providing medication therapy on both individuals and the broader community.
"Part of what we're trying to do here is make the case to our legislators in the Commonwealth of Massachusetts that this program should be continued and expanded to the other jails in the state," says Peter Friedmann, M.D., of Baystate Health and the University of Massachusetts Chan Medical School-Baystate. Along with Evans, he is a principal investigator on the Massachusetts JCOIN project that also includes researchers from six universities, community partners at nine houses of correction, the Massachusetts Department of Public Health, and 20 community treatment providers.
"We want to be able to make the case to legislators in other states, also, by having the most rigorous evidence available," Friedmann adds.
Advancing Health Equity Through Research
For many people who end up in jail settings, says Siddiqi, "This is the first medical appointment they may have had in years – or even in their life."
He explains that these individuals are often highly incentivized to accept help because the experience of withdrawal from opioids is so horrific. Medications like buprenorphine and methadone treat not only withdrawal symptoms, but also lessen the cravings that make it hard for people to quit drugs.
One challenge is time: the window of opportunity for offering treatment is short.
The average jail stay in the United States in 25 days, so treatment for opioid use disorder during incarceration can have a great impact on these individuals' lives after release, as well as on their families and communities.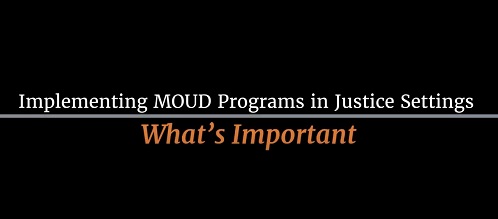 And it's also the right thing to do, explains Evans.
"Offering evidence-based treatment like medications for opioid use disorder is an example of how we can level the playing field," Evans explains, "JCOIN is trying to set a standard of care within the justice system that's on par with, or maybe even better than, what these folks might receive in the community when they're not incarcerated."
Bringing Research to Life
How easy is it to implement an opioid treatment program in a correctional facility – to get buy-in from officers and other staff? A few factors are key for state policymakers. In addition to health and safety benefits, cost is always important.
Jails and prisons often have limited resources to spend on the most effective programs. The JCOIN research team has developed a tool that estimates the start-up and running costs of medication treatment programs. Among other things, it looks at the price tag for necessary facility modifications and staff costs for stocking medications and administering treatment, and other items.
Fears about diversion – in which prescribed medications are rerouted for use by others – have blocked many past efforts to offer addiction treatment in justice settings and elsewhere. However, a JCOIN analysis found that while some diversion occurs, with appropriate preventive protocols in place, the extent to which it happens is small. This shows that research is a powerful tool: Providing proof is more likely to convince skeptics.
The HEAL-funded JCOIN program has accomplished a lot in the 3 years since it began, and the team has set ambitious goals toward informing policy – not just at the system or state level, but also nationally.
For example, JCOIN researchers are analyzing details about development and implementation of medication treatment programs in various settings, such as in rural, suburban, and urban jails. JCOIN projects are also evaluating the outcomes of incarcerated individuals once they leave jail, related to both opioid use and engagement in further treatment.
Results Matter
A key aim of a lot of HEAL research is to find ways to improve access to treatment for those who could benefit, and JCOIN early results are promising. One study found that individuals who had received medication therapy in one Massachusetts jail were about 30% less likely to be arrested, arraigned, or incarcerated again compared with those who had been incarcerated during the same time period in a neighboring Massachusetts jail that did not offer treatment.
Based upon entrenched stigma, especially surrounding people in the justice system, changing minds is a bigger problem. But here, too, comes hope.
Built into the JCOIN research program are periodic surveys to measure public views about opioid addiction. One such survey showed the value of empathy: people with lived justice system experience may be more likely to understand the difficulties of living life in recovery from opioid use disorder. The survey also showed that most U.S. adults see opioid use disorder as a treatable medical condition rather than as a criminal matter.
No doubt, further data from the large and unique JCOIN research endeavor will guide future policy decisions that can help the millions of Americans who are involved with the U.S. justice system.