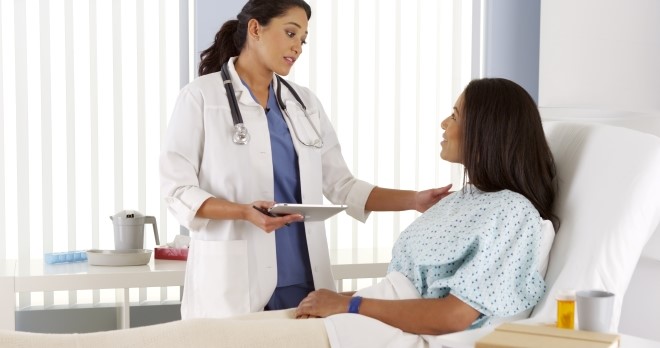 Ketamine is a non-opioid drug that has been around for decades. It is used routinely during surgery for anesthesia and pain relief – including during the Vietnam War for emergency battlefield procedures. Ketamine can be hallucinogenic and is occasionally used recreationally as the party drug "Special K." And much more recently, since 2019, ketamine has been used as a fast-acting treatment for severe, treatment-resistant depression – bringing relief for many patients for whom nothing else worked.
Given its ability to treat both pain and mental health conditions, researchers funded by the Helping to End Addiction Long-term® Initiative, or NIH HEAL Initiative®, are testing ketamine to prevent a common type of chronic, postsurgical pain in women: postmastectomy pain syndrome. This is part of a larger effort to test existing, non-opioid pain medications in various healthcare settings.
Preventing the Transition From Acute to Chronic Pain
Preventing chronic pain after surgery is an important HEAL goal.
"Up to two-thirds of women will continue to experience pain 6 months after mastectomy. For some, this pain may be moderate or severe," says HEAL researcher Jing Wang, M.D., Ph.D., from the New York University Grossman School of Medicine. "And women of color are disproportionately affected by postmastectomy pain syndrome."
Opioids are effective for treating pain, including postmastectomy pain syndrome, but they pose a risk of addiction.
Some of the transition from acute to chronic pain is related to tissue damage, but physiological changes may also spark psychological processes that worsen the perception of pain. For example, the stress response after surgery can trigger mood changes, which could contribute to the transition to chronic pain.
"We hypothesized that by targeting acute pain and improving mood, we can reduce the incidence of chronic postsurgical pain," says Lisa Doan, M.D., also from New York University Grossman School of Medicine.  
"Ketamine and opioids both work in the brain, but through completely different mechanisms, so there could be some synergistic effects," adds Wang. More research will be needed to follow up on findings that emerge from this study.
Toward Standardizing Care
To date, various small studies have looked at ketamine's ability to prevent chronic postsurgical pain, but a more systematic, scientifically rigorous approach was needed, says Wang. This research is evaluating the effectiveness of ketamine in locations where women are already having mastectomy procedures done, making it more likely that the findings can be translated into routine care. That's important because post-operative pain is managed differently across hospitals, Doan explains.
As part of the NIH HEAL Initiative Pain Management Effectiveness Research Network, the research team has launched a large, multicenter study that involves clinical sites around the country. All use the same research design so everyone's results can be easily compared.
Like all women who undergo mastectomy surgery, those participating in this study are given several treatments for pain after surgery. That typically includes acetaminophen, ibuprofen, muscle relaxants, opioids, and sometimes an anesthetic injection. Many hospitals around the country also give ketamine during and after surgery to temporarily decrease pain and limit opioid use. The HEAL team is evaluating whether a single dose of ketamine, given directly after surgery when pain is at its worst, will stop acute pain from turning chronic.
Wang and Doan reason that ketamine may not only treat immediate pain, but also reduce risk for anxiety and depression. These psychological effects can set the stage for a transition to chronic pain after surgery. The scientists also want to know if the effects of ketamine can be long lasting. Can ketamine prevent pain, anxiety, and depression for a year after surgery? If the single dose is as efficacious as the infusion, a single dose could be used across a wide variety of hospital settings.
"HEAL has really stepped in to fill a void in this fight against chronic pain and opioid misuse," Wang says. "It's been a game changer for clinical pain research."
Research Program:
Research Focus Area:
Read About the Project on NIH RePORTER
Learn more about the project, Optimizing the Use of Ketamine to Reduce Chronic Postsurgical Pain.
Learn More
Sign Up to Receive HEAL Research News
Subscribe to the monthly HEAL Digest to receive NIH HEAL Initiative research advances in your inbox.
Subscribe Now