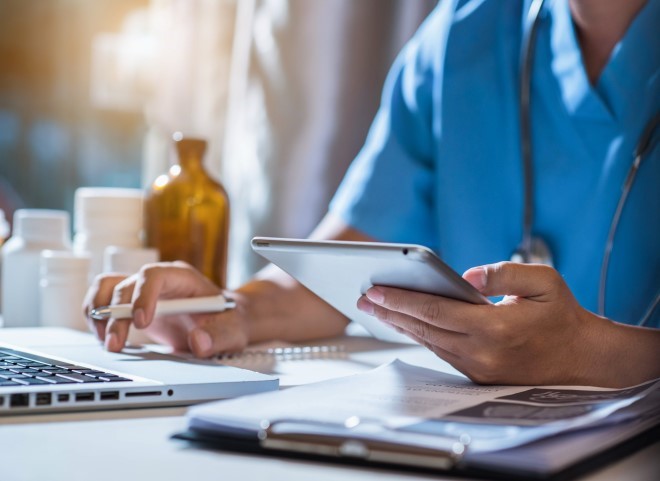 Complementary and integrative health approaches can be effective treatments for pain. But while these approaches – like chiropractic care, meditation, massage, relaxation, tai chi, and yoga – have been shown to alleviate some types of pain, doctors don't always know how to provide them to their patients. This is particularly true after major surgery.
Time constraints typical of routine healthcare visits make it harder still. "Why don't you try a low-impact yoga class?" may be a tougher sell than a prescription for a pain pill, explains Andrea Cheville, M.D., a rehabilitation and pain medicine specialist at the Mayo Clinic in Rochester, Minnesota.
Cheville and her colleagues are studying the use of decision-making tools embedded into electronic health record (EHR) systems. Offering various treatment options can help patients manage their own pain by selecting non-drug pain care after surgery, as well as help clinicians support that choice. Through the Mayo Clinic's EHR system, Cheville's team will offer surgery patients the chance to express interest in various complementary health approaches. The researchers hope to show that patient preferences can be smoothly incorporated into medical care – both to reduce pain after surgery and minimize the needs for opioids. 
The research is part of the Helping to End Addiction Long-term InitiativeSM, or NIH HEAL InitiativeSM and its effort to evaluate innovative therapies for pain management and how to implement them. The study is one of several testing practical and scalable solutions to most effectively implement evidence-based interventions and pain management guidelines.
Modifying Electronic Health Record Systems
The researchers will follow more than 70,000 patients who are scheduled to have various types of surgery. Over a period of 3 years, each of 24 surgical practices in Mayo Clinic's locations across the country will have their EHR system modified, enabling them to be "switched on or off" to accept information about patient preferences for pain treatment.
The researchers will compare patients who use the typical EHR system after surgery to patients who use the enhanced (switched on) EHR system, with options to express interest in complementary health treatments for pain. The study team will determine if patients who are offered non-medicine options experience less pain and recover more quickly from surgery. They will also look at patients' anxiety after surgery and how much follow-up care they need.
The research team has spoken with and shadowed many Mayo providers to understand use of the current Mayo Clinic EHR system to figure out how to build the enhanced version that records patient preferences.
Offering Patients a Menu of Options
Clinical guidelines state that ideal pain care is integrative – emphasizing a holistic, patient-focused approach to healthcare and wellness that treats a whole person rather than, for example, one organ system. Yet complementary and integrative health approaches are seldom presented to patients, Cheville notes.
When the Mayo Clinic enhanced EHR system is switched on and a patient who is scheduled to have surgery logs onto the site, he or she encounters a "conversation guide" about pain. The guide explains the likelihood of pain after surgery and the reasons for limiting opioids, and it offers several non-medicine options a patient can choose to add to his or her pain management plan.
The system offers options in three categories: movement (yoga, tai chi, and walking); physical (acupuncture, acupressure, massage, transcutaneous electrical nerve stimulation, and hot and cold therapy); and relaxation (progressive muscle relaxation, paced breathing, meditation, guided imagery, music listening, and aromatherapy). All these approaches do not involve medicine but have been shown by multiple research studies to reduce pain.
"We're trying to help patients, at a glance, understand what these treatments are and encourage them to pick two or three that we can support during and after their hospital stay," Cheville explains.
The selections are saved in a patient's EHR record as computer-coded tags know as data elements, alongside blood pressure, diagnoses, prescriptions, and other medical information. Patients can change their preferences anytime.