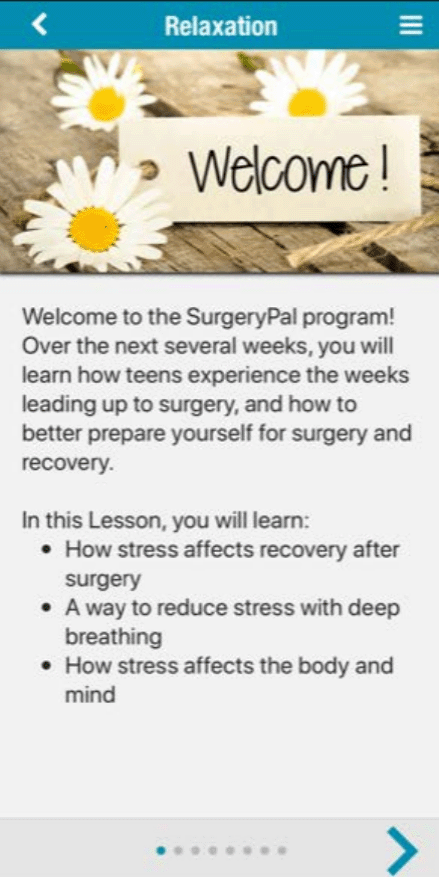 Most children who have major surgery will experience short-lived (or "acute") pain, but for about one in five, the pain persists and becomes chronic. Unlike acute pain caused by a stubbed toe or a broken arm, chronic pain lasts for months or years with significant effects on daily quality of life.
Opioids are often prescribed for pain, but they bring significant risks, including misuse, dependence, and even overdose. Current recommendations advise physicians to weigh the benefits of opioids with these risks and to consider non-opioid options.
Researchers funded by the NIH Helping to End Addiction Long-term® (HEAL) Initiative are studying many types of non-opioid options to treat pain. Examples include an injectable implant into the spinal cord for chronic back pain, focused ultrasound waves for neck pain and chronic headaches, and behavioral interventions and self-management programs for various sources of pain. In many cases, safe and effective treatment of acute pain could prevent chronic pain altogether.
Cognitive behavioral therapy helps shape how a patient thinks, feels, and acts. Psychological factors – such as over-focusing on potentially bad outcomes, or negative emotions – have an impact on the severity of both acute and chronic pain. A large and growing body of evidence shows that cognitive behavioral therapy can help people better cope with pain pdf  2 MB and reduce the associated disruptions to an individual's daily life by reducing the severity or frequency of these negative psychological factors.
"We know that high levels of anxiety or distress, feeling less able to manage pain, and experiencing disrupted sleep even before surgery are associated with having worse subsequent pain and poorer recovery after getting home from the hospital," says HEAL-funded researcher Jennifer Rabbitts, M.D., a pediatric anesthesiologist and pain physician at the University of Washington School of Medicine and Seattle Children's Hospital. Her research studies long-term pain and health outcomes in adolescents undergoing surgery. She is also developing strategies to prevent her patients from progressing from acute to chronic post-surgical pain.
Lessons in Cognitive Behavioral Therapy for Pain Management
Short-term use of cognitive behavioral therapy approaches, such as relaxation strategies, can reduce acute anxiety and pain intensity in patients during their hospital stay as well as in the first month at home after surgery. However, it isn't clear whether cognitive behavioral therapy can also prevent  chronic post-surgical pain.
Spinal fusion surgery aims to correct certain spinal deformities, including scoliosis, in children and adolescents. This procedure is associated with intense acute post-surgical pain, which often evolves into chronic pain. In fact, up to half of healthy adolescents report chronic pain 6 to 12 months after surgery. In addition, in 2020, U.S. young adults between ages 18 and 25 experienced the highest rates of substance use disorder pdf  3.58 MB among all other age groups. The primary reported reason for use (or misuse) of opioids by these individuals was to treat physical pain.
To help to prevent the transition from acute to chronic post-surgical pain in adolescents undergoing spinal fusion surgery, this research uses a self-guided mobile application and website (called SurgeryPal) to deliver lessons to patients and their caregivers before and/or after surgery. The lessons explore how to prepare for surgery or a hospital stay, teach coping strategies to manage anxiety or stress and improve sleep patterns, as well as offer skills to reduce pain.
Patients learn techniques for deep breathing and stress relief, including how to use imagery to picture themselves in a place they enjoy the most. In the weeks after surgery, patients report symptoms – as well as how pain has interfered with day-to-day life. At that time, they receive tailored content with personalized recommendations for reducing symptoms or dealing with challenges.
Rabbitts and her team will compare pain severity and interference in adolescents undergoing spinal fusion who received cognitive behavioral therapy before and/or after surgery to those who didn't to see if pain coping skills reduce acute pain as well as prevent chronic pain later.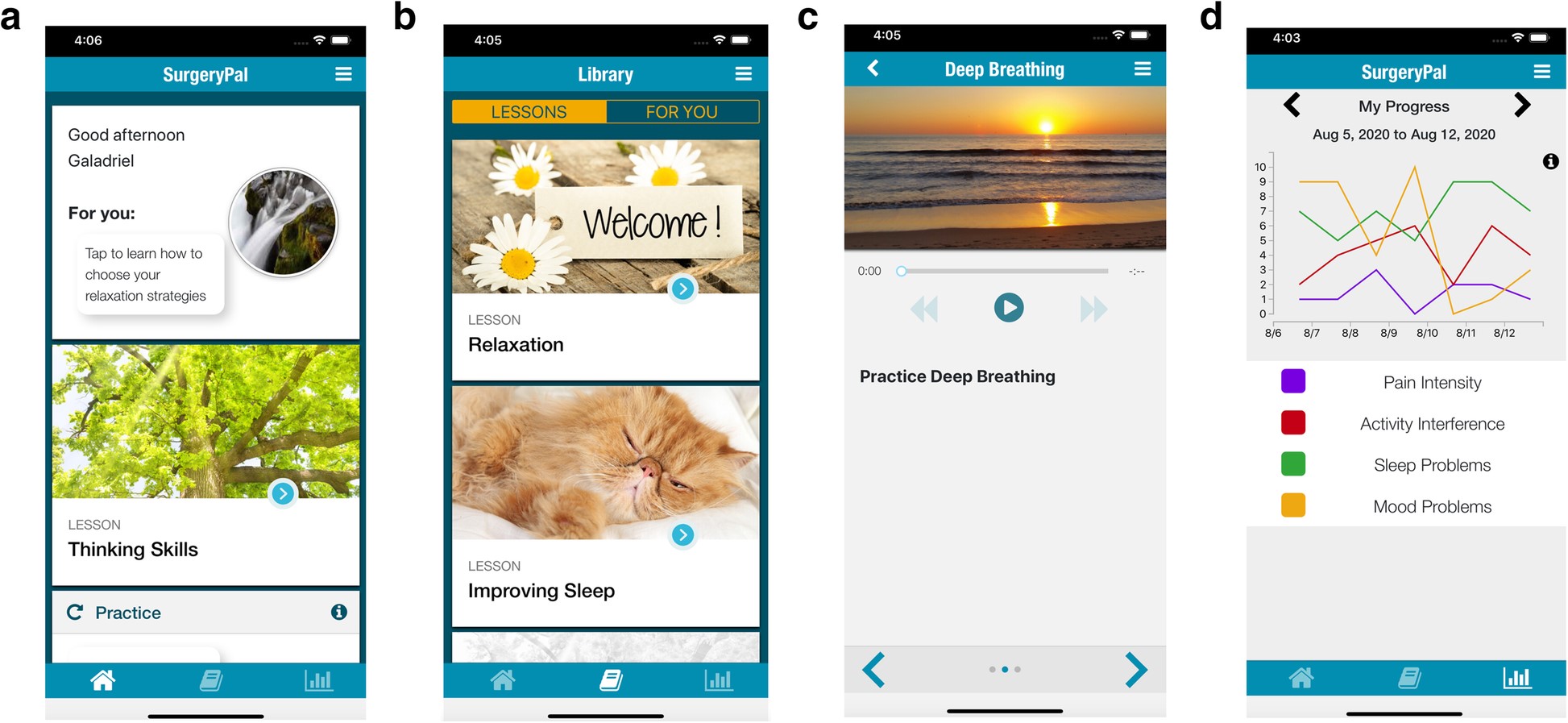 Looking Ahead
"If we are going to address the opioid epidemic, we need to address pain," Rabbitts explains, noting the value of preventing pain before it turns chronic. Preventive pain strategies taught by the SurgeryPal program may also reduce use of opioid medications after surgery. Strong evidence for the effectiveness of these strategies, provided by research, may influence how post-surgical pain is managed clinically – potentially for any type of surgery, Rabbitts says. Many patients might benefit, such as those undergoing other musculoskeletal surgeries, cancer procedures, abdominal surgery, organ transplants, or others.
Beyond healthcare providers, other individuals might be able to help youth manage pain on a routine basis in other settings. For example, school staff and sports coaches could also teach pain self-management skills. In fact, teens in SurgeryPal pilot studies reported that they continued to use coping and self-management skills they learned through the program for all types of stress, even stress not related to pain. Rabbitts sees adolescence as a time where medical providers can help prevent problems before they arise and importantly, have a positive impact on the rest of a child's life.
"I help take care of kids before, during, and after their surgeries. I see children who seem to recover so well and quickly, and some who struggle with pain after surgery," Rabbitts says.
'What can we do to help those who are struggling'?" She is hoping her research will show that pain self-management skills can play a key role.
To learn more about pain management and prevention work funded by HEAL, see Clinical Research in Pain Management and Pain Management Effectiveness Research Network.
Research Program:
Research Focus Area:
NICHD
Learn about the role that the Eunice Kennedy Shriver National Institute of Child Health and Human Development (NICHD) is playing in the NIH HEAL Initiative.
Learn More
Sign Up to Receive HEAL Research News
Subscribe to the monthly HEAL Digest to receive NIH HEAL Initiative research advances in your inbox.
Subscribe Now