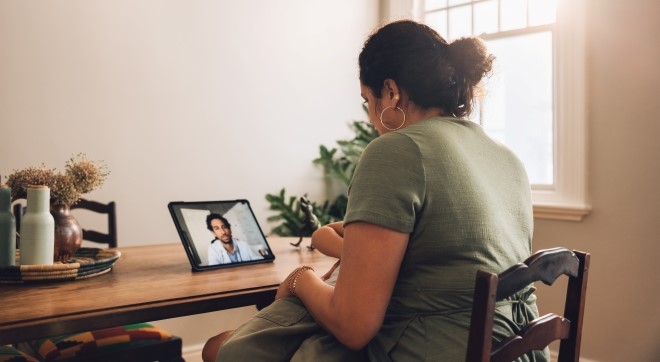 The COVID-19 pandemic not only upended people's daily lives, but also threw research and treatment programs everywhere into upheaval. Scientists conducting clinical studies could no longer meet to develop study plans, recruit patients by going out into a community, or conduct in-person assessments or interventions. People could not visit their doctors for new or existing problems or receive in-person treatments, and those who participated in clinical studies could not attend their scheduled study visits. Even traveling to appointments became a problem, in some cases.
However, research and treatment communities responded quickly and creatively to these unexpected challenges. An important part of these responses was the rapid development and implementation of telemedicine strategies – digitally delivered assessment and treatment approaches. At a recent investigator meeting for the NIH Helping to End Addiction Long-termSM Initiative, or NIH HEAL InitiativeSM, researchers shared experiences with telemedicine approaches in their programs in both substance misuse and pain treatments that do not require physical interactions.
Telemedicine Can Take Different Forms
Digitally delivered treatment can be as diverse as treatment delivered in person. The most straightforward approach is a one-on-one session between a healthcare provider and a client via a secure teleconference application or similar Zoom-like technology. A virtual meeting can be well suited to individualized counseling or psychotherapy, such as cognitive behavioral therapy, and can also be used for group therapy sessions. During the pandemic, some NIH HEAL Initiative investigators even set up "Zoom rooms" within their facilities that could be used by individual patient participants, with the treatment provider on a computer in a separate room. This allowed patients who did not have access to the technology at home to come to a facility and receive treatment while maintaining social distancing.
Other investigators used and continue to use other technology-driven interventions. For example, Lynn DeBar, Ph.D., M.P.H., from the Kaiser Foundation Research Institute and her colleagues are evaluating tailored nonpharmacological treatments for chronic pain. In response to restrictions imposed by the COVID-19 pandemic, they have implemented interventions using interactive voice recognition (which allows people to interact with a computer-operated phone system through the use of voice and a keypad) or virtual reality‒based technologies that can be tailored to the needs of each individual patient.
In contrast, Elizabeth D'Amico, Ph.D., from the RAND Corporation and her team are using telemedicine approaches to bring together participants for a shared experience in the Traditions and Connections for Urban Native Americans program. One component of the program involves workshops focusing on traditional Native American activities, such as spiritual practices or cooking workshops. Before the pandemic, these workshops took place in multiple communities, requiring workshop leaders to travel and thus limiting the number of participants at each site. With COVID-19 restrictions, they switched to an online format that can bring together participants from all over the country and allows more people to participate – all necessary materials (e.g., ingredients for cooking) are mailed to participants ahead of time.
Telemedicine Can Lower Barriers to Treatment
These and other kinds of telemedicine approaches may extend the reach of treatment to currently underserved populations, such as those in rural areas with few treatment providers. For example, D'Amico's program targets a population – urban Native Americans – that is small but spread out across the country, and digitally delivered interventions can help bring together this dispersed population. Additionally, such approaches may help solve transportation problems, since participants do not have to leave their homes to participate.
Telemedicine interventions may also be less stressful for some participants. Faye Taxman, Ph.D., of George Mason University, who leads the Coordination and Translation Center of the Justice Community Opioid Innovation Network, noted that telemedicine approaches are now recognized as an effective way to deliver services to justice-involved patients even in the atypical healthcare settings included in their programs, such as jails, courthouses, and probation offices. "A judge told us that he was amazed how much more relaxed clients were during court hearings via telecommunication compared with in-person hearings, and how this noticeably reduced the clients' stress," she recounted. It may be easier for providers to engage patients in treatment for substance use disorders through virtual meetings in the comfort of a patient's own home, rather than via in-person meetings in justice settings.
Telemedicine Is Not for Everyone
Despite such benefits, telemedicine approaches cannot replace interactions that require physical interaction and can pose challenges. Infrastructure-related issues, such as lack of access to the internet or the appropriate technology (smartphone or computer) as well as limited mobile phone data plans, may prevent participation. Sharon Walsh, Ph.D., of the University of Kentucky, who is a principal investigator for the HEALing Communities Study, explains, "We had to install hotspots allowing phone and internet access in some rural areas, provide technical assistance, or figure out reimbursement of costs for extra minutes on users' phone plans."
In fact, some have argued that wider adoption of telemedicine approaches will exacerbate existing health disparities by creating a digital divide between people who have access to digital technologies and those who do not.
Other individuals may be unable to adopt telemedicine approaches because of their living arrangements. They may experience housing instability, have no space in their homes to have private conversations, or may feel uncomfortable allowing others to see inside their home.
Finally, some may benefit more from (and prefer) in-person contact and touch-based therapies, particularly for treating pain. The ability to have direct social interactions also is important for many people, particularly those who are struggling with treatment. As Taxman explains, "Patients who are ready to engage often do better with virtual approaches. Those who have problems, who need that extra bit of support, may need more personal assistance."
Are Telemedicine Interventions Effective?
Numerous virtual treatment approaches have been implemented during the pandemic. Many of these were developed within just a few months, rather than over several years as is more usually the case. Additionally, regulators and payers rapidly lowered implementation barriers to telemedicine-related services, such as approval for starting buprenorphine treatment virtually.
Information on how effective these approaches are is still limited, although research is underway – some of which preceded the pandemic. For example, initiative-funded researchers are working in rural areas in Massachusetts, Washington, and New Hampshire to use telemedicine follow-up for medication-based treatment for opioid use disorder and related health problems like infections.
Preliminary reports suggest that telemedicine approaches are viewed favorably not only by patients but also by diverse treatment providers and other stakeholders from a variety of settings. This is also supported by observations that some programs using virtual treatment approaches were able to attract more participants than they could before the pandemic.
More research is needed to assess how providers are adopting and implementing pandemic-related changes to telemedicine, how these technological solutions affect treatment access and retention, and how new and improved tools can extend the reach of additional evidence-based treatments.
Says Edward Nunes, M.D., of Columbia University, "We need more research on how well these approaches work, and how we can optimize their effectiveness." In addition, he points to the risk of attrition, especially with treatments that rely on mobile apps, as people tend to install apps readily but then work with them less and less, reducing their effectiveness.
"You also need human touch. In many cases, app-based and other digital approaches will work better as an extension of in-person services rather than as a standalone," he adds.
Is Telemedicine Here to Stay?
With social distancing and other restrictions loosening as COVID-19 comes under better control, will the innovative telemedicine approaches developed during the pandemic be phased out? Some researchers and clinicians, such as D'Amico, have already decided not to return to in-person settings. She will continue with virtual approaches that make it easier for study populations to connect and find appropriate resources.
Much of the anecdotal evidence about telemedicine approaches indicates high acceptance of virtual formats by both providers and clients. On the other hand, some patient surveys indicate that, given the opportunity, many people will choose to see their healthcare providers in person again when that becomes an option.
In the end, it may not need to be an either/or decision.
Says DeBar, "We can do both; we can facilitate some in-person contact and then use virtual technologies to augment that." She envisions service networks that can include local peer support as well as contact with treatment providers who may be located remotely.
With appropriate attention to ensuring patients have access to technologies, and knowledge about how to use them, telemedicine offers promise for enhanced care and better outcomes for patients with pain and addiction.