One of the most heartbreaking aspects of the opioid epidemic is the increasing number of infants who are born physically dependent on heroin or other opioid drugs taken during pregnancy. Some of these infants develop severe withdrawal symptoms, typically within the first 72 hours after birth, that result in a diagnosis of neonatal opioid withdrawal syndrome, or NOWS.
The babies cry and have problems sleeping or feeding; their muscles may tremble, twitch, or even seize; they suffer from vomiting and diarrhea that can lead to dangerous dehydration; and they may experience numerous other symptoms. Help may be on the way soon: Two small start-up companies have come up with new devices that stimulate the babies' dysfunctional nervous systems and may improve outcomes for these infants: a gently vibrating bassinet pad and a neurostimulation device that wraps around an infant's ear.
Because of the scope of the opioid crisis in some of the most vulnerable members of society, the Helping to End Addiction Long-termSM Initiative, or NIH HEAL InitiativeSM, has dedicated an entire research area to enhancing the outcomes of children exposed to opioids. The research projects supported in this area focus both on the immediate treatment of NOWS and on the long-term consequences of prenatal opioid exposure on children's brain and behavioral development. The initiative also participates in the U.S. Small Business Innovation Research (SBIR) and Small Business Technology Transfer (STTR) programs, which help small start-up companies respond to urgent medical needs like NOWS.
The NOWS Epidemic
Over the last two decades, the incidence of NOWS has risen sharply, mirroring the rise in opioid misuse and opioid use disorder in the United States, including in pregnant people. By 2016, almost 9 out of 1,000 infants (PDF, 1.6M) born suffered from NOWS, with the incidence even higher in certain population subgroups (e.g., American Indians/Alaska Natives). In other words, about 90 infants per day, or 1 every 15 minutes, are born physically dependent on opioids and may require various levels of intensive care to wean them from the drugs.
Infants with NOWS can show a range of symptoms and behaviors that stem from the opioids' effects on their gastrointestinal and central nervous systems. The type of symptoms and their onset and severity can differ widely, depending on, among other factors, the type and amounts of drugs the mother used.
Because of how differently symptoms appear, no standard of care exists for infants with NOWS. Infants with more severe symptoms are typically administered opioids such as morphine, buprenorphine, or methadone to relieve the immediate withdrawal symptoms and then are weaned off the medication using a standard tapering protocol.
In less severe cases, or as an adjunct to pharmacotherapy, healthcare providers use nonpharmacological approaches to soothe and relax the infants, such as the Eating, Sleeping, and Consoling approach. As John Konsin, M.B.A., co-founder and Chief Executive Officer of Prapela, Inc. in Biddeford, Maine, explains, "This is a condition with multiple symptoms that can be caused by a wide variety of different over-the-counter or illicit drugs. It's going to take us a long time to find the best treatments. So, the more solutions we have for caregivers, the better it is going to be for the babies affected."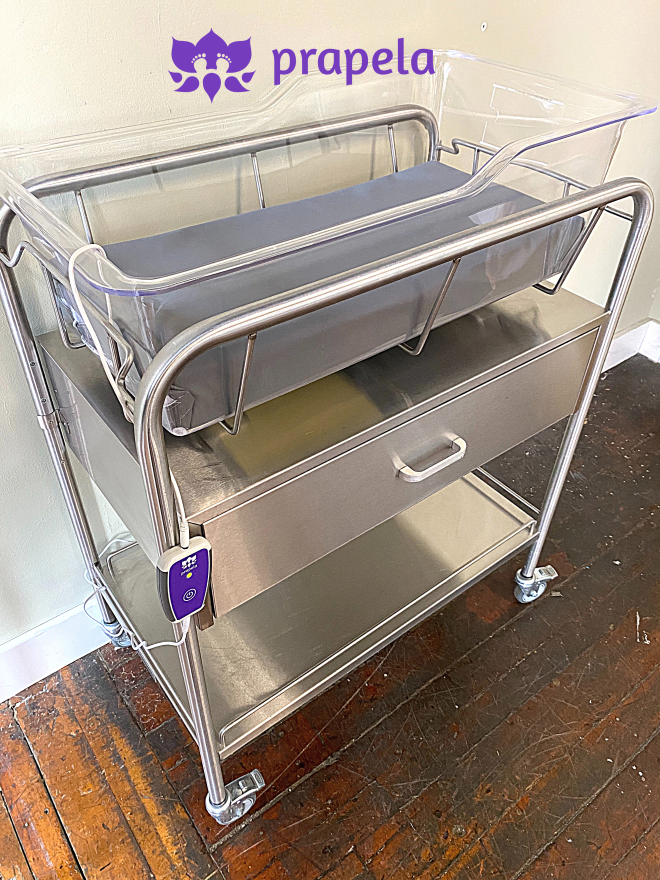 A Gently Vibrating Bassinet Pad
Konsin and his colleagues hope to add to these options with a new product, the PrapelaTM SVS hospital bassinet pad, a stochastic vibrotactile stimulation, or SVS, device, whose development is funded by an NIH HEAL Initiative SBIR grant. The device is a hospital bassinet pad that produces a very gentle, random vibration that soothes a baby in distress.
The inception of this technology stems from a serendipitous discovery by Prapela co-founder David Paydarfar, M.D., who was doing research with squid and found that gentle, random vibrations could trigger firing of certain nerve signals. Subsequent studies in animal models determined that such vibrations could boost the activity of pacemaker neurons, resulting in healthy, rhythmic breathing and heart rate.
After scientists learned that the technology could stabilize breathing in preterm newborns prone to apnea, they decided to see if the technology could also help infants with NOWS who have frantic breathing and rapid heartbeats. A study with 26 infants showed that exposure to vibrations for 30-minute on–off intervals over a 6- to 8-hour treatment session could significantly improve the infants' breathing, heart rate, and muscle relaxation. These promising results prompted the team to commercialize the product for use in hospitals.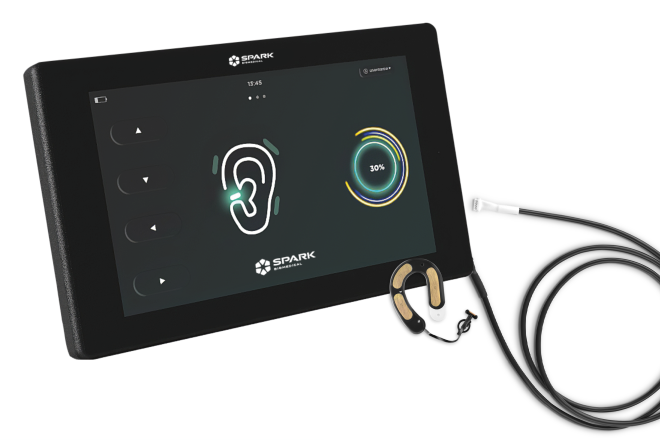 Wearable Ear Neurostimulation
Also with support from an NIH HEAL Initiative SBIR grant, Navid Khodaparast, Ph.D., Chief Scientific Officer at Spark Biomedical, Inc., in Dallas, Texas, and his colleagues are using a different approach to help infants with NOWS. They are developing a small device that offers electrical stimulation of certain nerves on and around an infant's ear.
The procedure, which is known as transcutaneous auricular neurostimulation, or tAN, is like "electro acupuncture." It is administered not with needles, but with a hearing aid-like device that is placed around the baby's ear. Known as "Roo," to mimic the comfort of being in a mother's pouch, the device delivers soothing electrical signals through the skin that prompt the release of endorphins – the body's own version of opioids. The endorphins activate the same receptors in the brain as do opioid drugs, thereby helping to control withdrawal symptoms.
The Spark team had already explored this approach to manage opioid withdrawal in adults; in fact, their adult device has already been cleared by the U.S. Food and Drug Administration (FDA). When they became aware of the crisis of NOWS, the scientists moved quickly to adapt the technology for use in infants, recalls Khodaparast.
"This is something we really should put resources and thought into, because it's a huge problem."
The researchers started a small clinical trial in collaboration with clinical researchers at the Medical University of South Carolina in Charleston, testing eight infants with NOWS who required morphine treatment. One hour before their scheduled morphine dose, the infants were exposed to the Roo device for 30 minutes; this process was repeated four times daily for up to 12 days. The study results looked promising, shortening the time the infants needed morphine treatment.
What's Next?
Both the Prapela and Spark teams are seeking FDA approval for their devices and recently received FDA Breakthrough Device status for their applications, providing a quicker path to getting the devices to market. "It's also a helpful connection for the researcher teams," adds Khodaparast.
"You have more dynamic and frequent conversations with the FDA, which allows us to shift our processes rapidly if needed."
Both teams hope that with this enhanced feedback from the FDA, they will be able to receive final approval for their products in the not-too-distant future, allowing them to bring the devices to healthcare providers eager for more options to treat infants with NOWS. Konsin believes that with more choices, clinicians will be able to tailor the combination of medications and devices to the needs of each newborn and their specific conditions.
"We can't do enough in terms of options. The babies need more solutions, and so do their caregivers."
Research Program:
Research Focus Area: