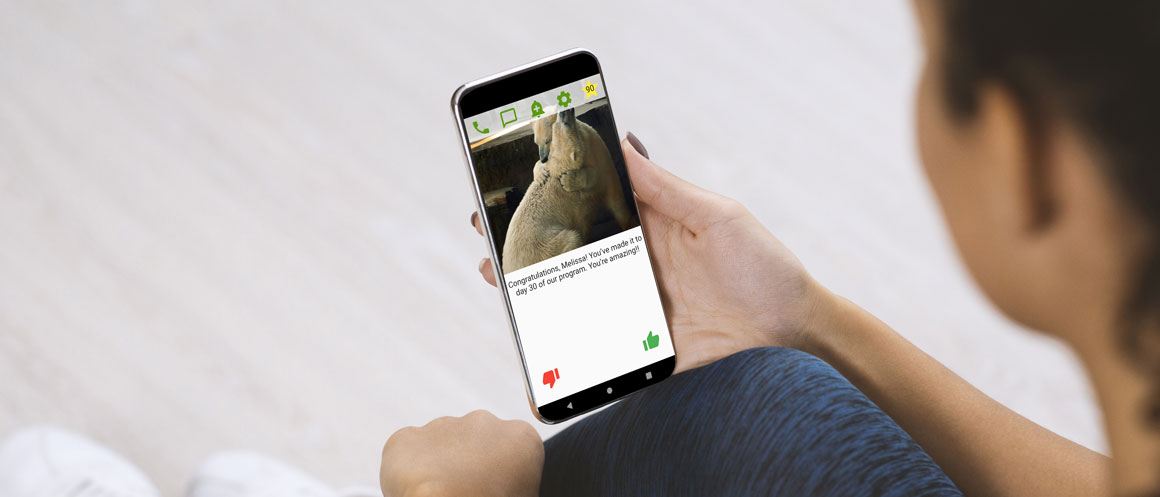 Medications such as methadone, buprenorphine, and naltrexone are highly effective for treating opioid use disorder. Yet only a fraction of people who could benefit actually receive these medications. Worse, about half of those who start taking them discontinue use within the first 6 months of treatment. Research has shown that the longer people continue treatment, the better their outcome is and the lower their risk of overdose.
The Helping to End Addiction Long-term® Initiative, or NIH HEAL Initiative®, supports behavioral research that aims to prolong treatment participation via the use of mobile apps that deliver text messages based on cognitive behavioral therapy. With this strategy, treatment providers can provide daily support to their patients without having to spare the resources necessary for regular in-person follow-ups.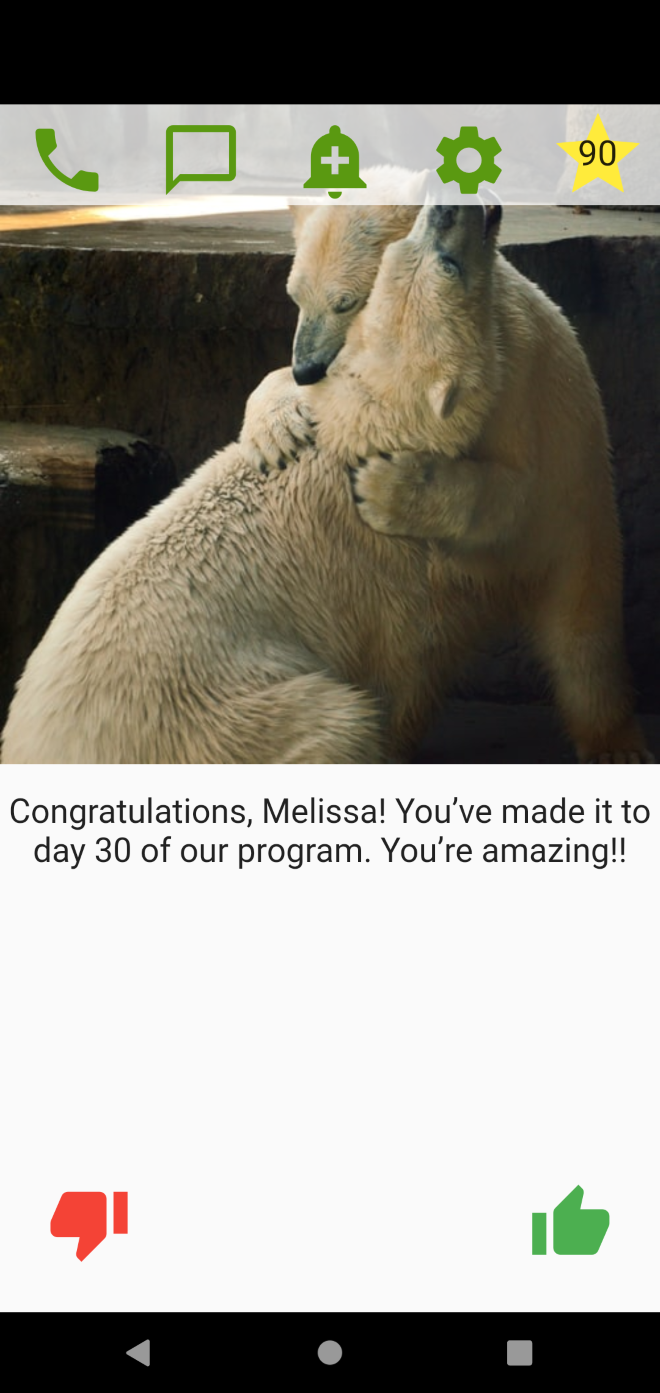 Apps Can Help Reduce Relapse
Cognitive behavioral therapy is a proven approach for relapse prevention for people using opioids or other drugs. It typically targets skills such as identifying triggers for drug use and boosting coping skills. Strengthening these skills does not require in-person contact but can also occur digitally, using text messages. For example, an app called reSET-0 and others are already commercially available as digital therapeutics and have been shown to help people with opioid use disorder in recovery, particularly in conjunction with medication.
Now, a team led by Suzette Glasner, Ph.D., at the University of California, Los Angeles, is taking the use of text-messaging apps to the next level in supporting recovery of people with opioid use disorder receiving medication therapy. They are currently testing the value of a new personalized text-based app, called imFREE, to help people with opioid use disorder continue taking buprenorphine.
The idea for this work came from previous work with research participants living with HIV/AIDS who also used alcohol and other drugs. In that work, Glasner and her team learned that daily text messages built around cognitive behavioral therapy techniques helped individuals take their antiretroviral medications. By incorporating personalized text messages in their HIV/AIDS-medication intervention that addressed specific barriers to taking medications, the team could significantly increase the likelihood that participants took their HIV medications reliably.
Adapting an HIV/AIDs App for Opioid Use Disorder Treatment
Because many participants in the HIV/AIDS studies also used opioid drugs, the team wondered whether the same approach could help people with opioid use disorder not drop out of treatment with buprenorphine.
"We already knew this population really well in terms of their preferences, the way they wanted us to speak to them, and how to help them take medications for different conditions," Glasner explains.
Based on feedback from the users of the initial HIV/AIDS-targeted intervention, the researchers made a few modifications to improve it. First, they extended the intervention's duration from 12 weeks to 24 weeks because users of the app felt that 12 weeks was not enough. What's more, 6 months is an important milestone in treatment for opioid use disorder – people who stay in treatment for at least 6 months are more likely to continue treatment long-term and have successful outcomes. Therefore, the researchers hoped that extending the intervention would help participants not only to take their medication regularly during those 24 weeks but also to continue doing so after the intervention ended.
Second, the team targeted stigma – not only related to opioid addiction but also about medication treatment. The researchers conducted in-depth interviews with 26 participants about their experiences of stigma and how it affected their willingness to consistently take buprenorphine.
"If we are trying to help people stay in medication treatment, it seemed fundamental to have a good understanding of how stigma might interfere with that," Glasner says.
Based on the feedback, the researchers incorporated numerous stigma-related messages, particularly for the first 30 days of the intervention. These messages reinforce the benefits of taking medication to treat opioid use disorder and encourage patients to disregard the opinions of people who do not support their treatment and recovery.
Third, the researchers enhanced the original simple text message-based intervention to an app format, developing a platform called imFREE to make it more engaging. The new format:
Separates it from a person's other text messages so that the messages are not just one among many texts received every day but stand out and thus can have a greater impact.
Increases the intervention's visual appeal, for example, by allowing someone to choose a library of images that they find particularly engaging or motivating to accompany their messages.
Allows people to personalize some app content, such as saving messages they find particularly inspiring and would like to review repeatedly.
Enhances an individual's ability to interact with the program; for example, they can like or dislike messages and thus express how they feel about the messages.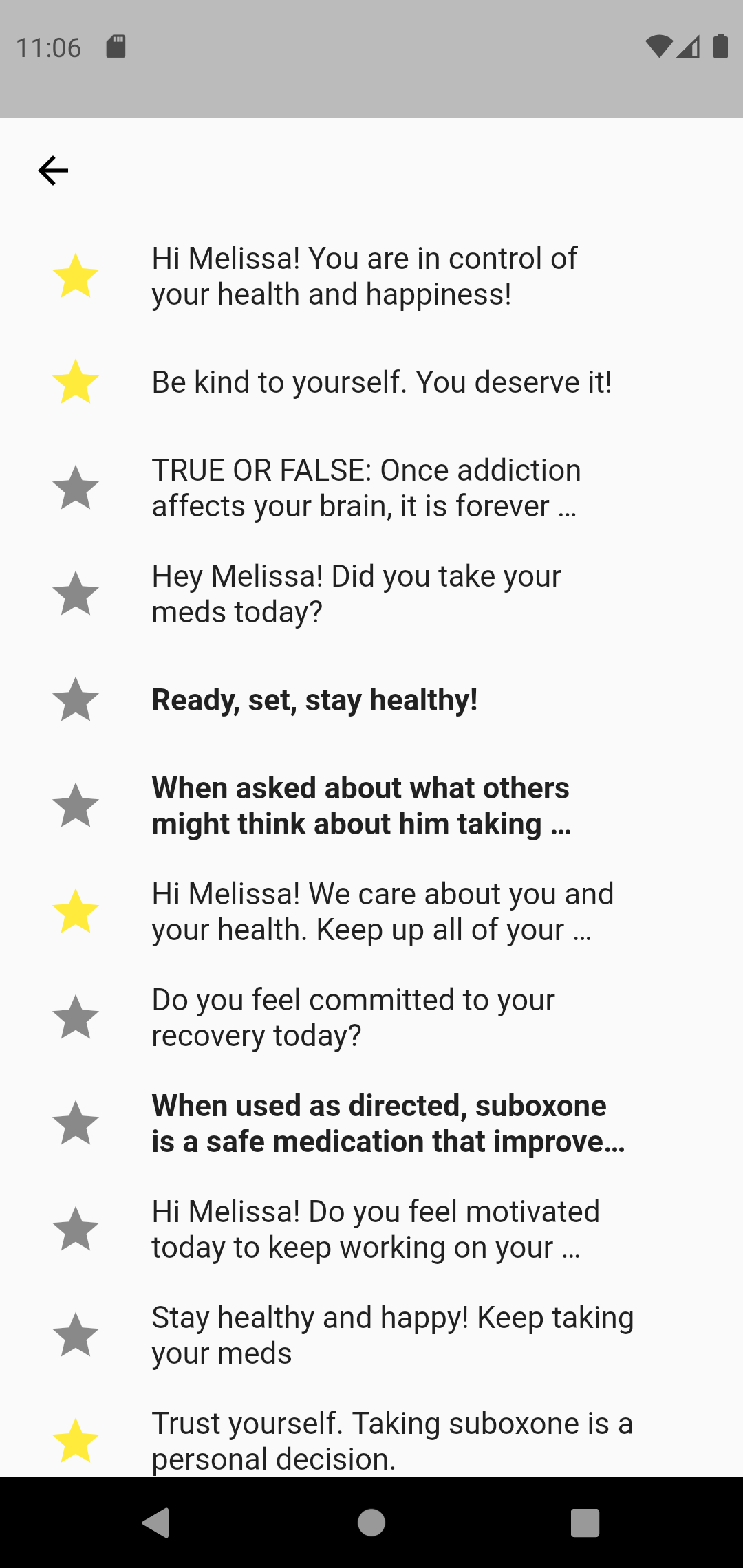 How Does imFREE Work?
During a face-to-face session with a clinician when people begin using the imFREE app, they are asked to identify the three top barriers that each individual believes affect their medication adherence. The app then tailors the messages the individual receives to address these specific barriers, focusing on one issue per week in the first 3 weeks of participation. For example, if a person indicates they are afraid they will forget to take their medication, they might get a message, "Hi John, this week we will work on helping you remember to take your buprenorphine." This would be followed up with additional messages during the week with suggestions on how to make it easier to remember taking it, such as putting post-it notes on the bathroom cabinet.
The team has created close to 1,000 different messages from which the app chooses the most appropriate ones for a given individual, up to three messages per day. They can also set medication reminders for the times when they usually take their pills.
The app also sends reinforcing messages when people have reached certain milestones of treatment participation, such as "Congratulations! You have reached Day 30 of our program – keep up the great work!" to encourage further participation. At the same time, it frequently solicits interactive responses to confirm that the person actually reads the messages and implements any agreed-upon measures. Finally, the app gives individuals the opportunity to request contact with their care team.
Glasner's team is now launching a clinical trial of the app with 200 participants. They will assess medication adherence and treatment retention during the 24-week intervention and for 6 months after, as well as examine the intervention's cost-effectiveness.
What's Next?
Glasner would love to see the app available to anyone with opioid use disorder as soon as they begin treatment with buprenorphine. The tool, she explains, would not only educate, but also reinforce the decision to begin treatment and give practical suggestions for continuing to take medication. If successful, she'd also like to expand the app for use with methadone and other medications for opioid use disorder.
Another research goal is to adapt the imFREE app to different populations, including individuals from different racial/ethnic communities as well as other subgroups, such as the LGBTQ community. This also includes translations into different languages so the app speaks to different types of people – helping individuals become invested in their own recovery and stay in treatment.
"Drop-out is one of the most frustrating aspects of opioid addiction care. We have highly effective treatments, but people have to stay on them for them to work. We think our app can help with that."
Research Program:
Research Focus Area: